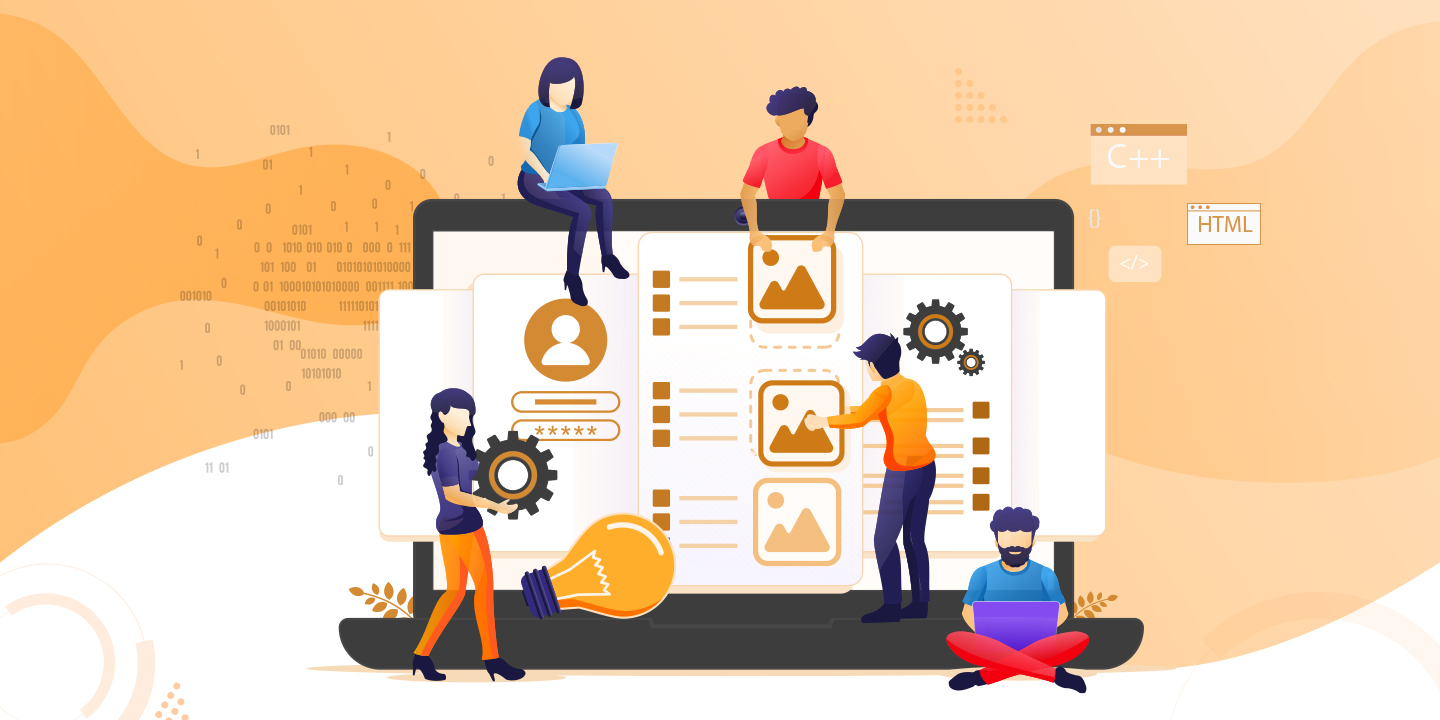 Top 7 UI/UX Design Trends Not To Miss This 2021 – Catch Up the Flare!
The world is transforming at a tremendous rate, and with the recent pandemic hit, there seems to be a massive shift from offline to online business. It has also ushered the designing world of UX and UI to garner new trends following the evolving choices of the users. Also, innovative frontend web development services come up with unique design features that may also play a role in flaring up trends.

Apparently, as UX and UI are interwoven, it isn't easy to set trends for one parameter, leaving the other as one cannot stand without the other. Hence, a dexterous front end development service always caters to this specialty. Inevitably, in recent times, UX/UI trends are evolving massively. Accordingly, user interface developers and front end web developers must stay updated with upcoming 2021 UX/UI designing trends to design and develop stunning and remarkable websites to be on top of the league.

So, let's unveil here the top 7 UX/UI design trends to stay ahead in the competitive world.

Minimalistic UI/UX
In recent times, minimalism is on the trending list. Whether you are talking about home decor or the UX/UI designing of a website, it brings a completely new edge. On a daily basis, we see many graphics everywhere – offline and online, and sometimes the design looks cluttered and overcrowded.  
The highly-stocked design seems inconvenient, intricate to craft and ineffective for both new business owners and UI development services. Therefore, complicated graphics and awkward fonts have been replaced by minimalism. And, to build an efficient UX/UI design, you can always hire a dedicated
UI developer India
.
Mini Apps
The mini app is a new talk of the town. It is the most significant trend in UX/UI mobile app design. The fantastic feature of a mini-app is that the user doesn't have to download the app. Instead, the users can follow the link or scan a QR code to access a service. For instance, to get food delivery or rent a scooter to move around the city.
This trend brings a lot of benefits to small businesses and startups. It not only cuts off the web store or mobile app development cost but also helps in bringing in new clients, especially during this Pandemic period. Undoubtedly, reliable front end development is your best bet that helps in further reducing your development cost.
Airy Interfaces
Not just in 2021, the Airy interfaces trend will continue to be there in 2022 also. The light airy design also has the tendency to ease in designing minimalist design apps. Undoubtedly, airy interfaces are straight to the point with a lot of clarity, intuitive and are highly interactive, and the best part is that the content is well-organized into them. 
So, why not, with a highly qualified UX/UI design development company, make your estore more flexible and user-friendly and attractive with light airy designs. 
Dark Mode
Since the last couple of years ago, this Dark Mode feature has appeared in several applications, and now in 2021 and 2022, it is going to be on the hit list of UX/UI trends. Obviously, dark mode is not just trendy, but it also has a lot of benefits. Firstly, it reduces battery consumption and saves battery for certain types of screens. Secondly, it lessens the adverse effects on your eyes in dark environments. 
In today's generation of smartphones, every application in the market makes it possible to switch to night/light mode. And, some apps out of them, to boast about their specialty, go with dark themes only. Therefore, it is necessary to follow UX/UI design trends when creating new-age mobile app designs with two modes and an option to switch between them. 
Big Typography 
Whether it is billboard or web design, typography plays an incredible role. It also has a significant part to play when it comes to product design. In some cases, the products are designed entirely based on Typography. The choice of the right kind of fonts and font size can often bring out exciting results.
Furthermore, in UX/ UI design trends, the large typography is rising tremendously. Also, graphic designers usually prefer and use big fonts to attract users' attention and pin them in. It is widely seen that normally these days, audiences skim the information for the vitals. They don't just spend the entire time reading every single thing that you put in there. Hence, large typography is jumping in the UX/UI design trends making its own space.
3D Illustrations
Not new to the designing world, and quite a happening in UX/UI design trends, 3D illustrations will soon replace the typical graphics. Providing a real-life product experience to shoppers, 3D has much to offer for everything in the coming 2022. Not a doubt, since its advent, 3D has amazed the digital audience, and it stands out in UX/UI trends. 
Due to the widely available tools, the designers can quickly and without any hassles can craft 3D graphic designs and illustrations for UX/UI design. Additionally, most user interface developers use 3D design animation on full screen to offer the user an excellent immersive experience, which unexpectedly is also a trend. 
Onboarding
A new trend of onboarding is emerging in UX/UI design trends. Onboarding is a unique concept that shows the importance of making the user understand the application. Furthermore, this makes it easier for the user to get well acquainted with the key features of the application. 
With excellent
, you can craft modern UX/UI design that encompass the application screens that enables the app user to properly understand how the application works, making it easier for them to use it for their required purposes. Usually, front end web development services for onboarding strongly recommend clear and clutter-free designs and readability of content. Not just limited to this, the app also needs to have high-resolution images and designs. 
Wrapping Up
Conclusively, design trends in 2021 and the coming year 2022 will mainly focus on minimalism, dark mode and onboarding along with highly interactive UI design. For exclusive designing of your web or app development, it is always fruitful to hire excellent
UI development services
for outstanding returns.