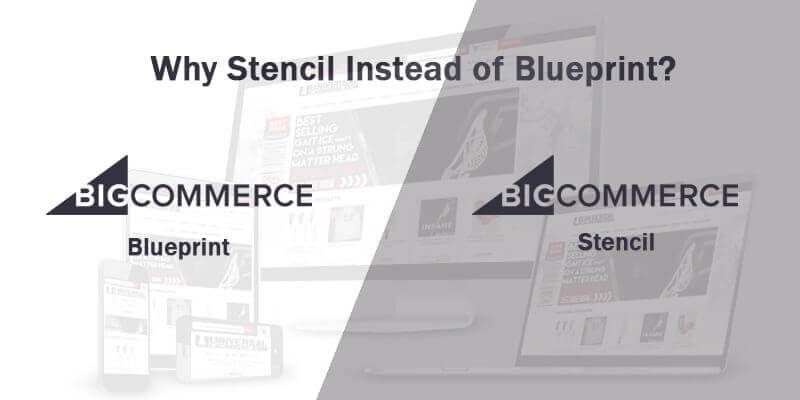 Why Stencil Instead of Blueprint?
Entrepreneurs with an eCommerce business need to keep their business growing in the face of tough competition and with the constantly growing demands of their shoppers. Not only does this include dealing with changing requirements and needs of your shoppers, but also to adapt to changes in technology. The latest entrant in the eCommerce framework is Bigcommerce's Stencil and this offers an edge over the current Blueprint that is in use. The tool promises to completely transform your storefront and offer a range of different options. Stencil is the latest tool for dynamic and powerful development for eCommerce storefronts. The Stencil framework also provides a strong foundation for all kinds of store front development.Some of the benefits of switching to Stencil from Blueprint with the help of BigCommerce Design services are as follows:
Logic Based Templates like the lightweight Handlebar Language – A page usually has a block of code that is known as a global variable and this cannot be changed. Stencil has eliminated this code and introduced the handlebar templating language. Here, BigCommerce Development services are able to easily make the changes as and when a site owner requests them. BigCommerce Design services find that there is less need for writing code and variables can be reused.
YAML Formatted matter for page specific resource definition – YAML is a JavaScript language that offers efficiency and this is done by its ability to collect data from the site that is relevant. In comparison to Blueprint where the entire section of data would have to be loaded and the irrelevant matter hidden, with Stencil there is an option to load just the relevant information as the data can be worked in a format that is designed in an organised manner.
JavaScript event hooks for dynamic front end development
Redesign in the shortest possible time with minimal coding required with Local Development – Local development means less time to get the site running. With this any changes that are made to the dummy site do not reflect on the live site. Stencil allows developers to use current data to make changes on the dummy site. The client can preview the dummy without this affecting the live site in any way. This significantly reduces the risk of errors.
Real time BrowserSync preview across devices – Stencil allows the client to view the changes simultaneously on all devices in real time. This way changes made to a desktop will not adversely affect a cell phone as an example.
Some of the beneficial key features are
Flexible Local Development that takes place with no disruption to the live store
A Graphical editor allows store owners to manage, customise and preview changes to their storefront without any coding. This also frees up the BigCommerce Design Services
Ability to be showcased to its potential on any device
Theme variations are available to suit different product categories and market segments
With the professional options like BigCommerce Design services that are available,switching to Stencil from Blueprint is so much easier. Looking for expert professionals to do the job for you is not difficult anymore. You can look at multiple different vendors and select the ones that do the job for you. Quotes can be requested online and it becomes very easy to compare the various options that are available to you.