Why Choose BigCommerce Over Any Other Platform in 2017?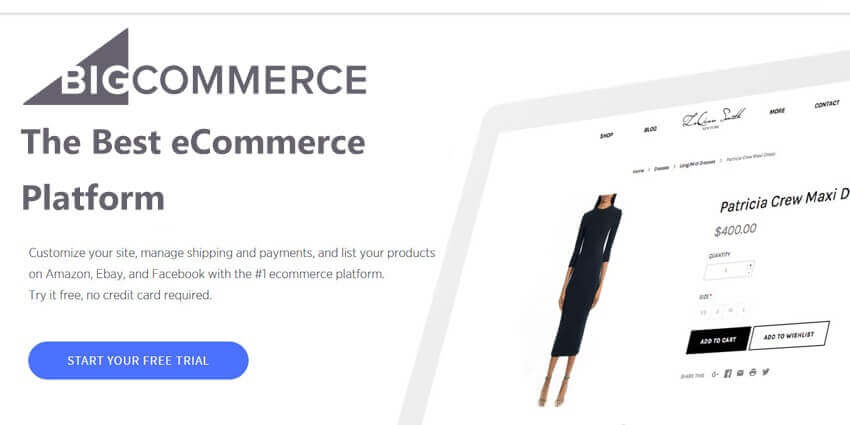 To say that most businesses have an online presence is stating the obvious; anyone with products or services to sell needs to attract the vast numbers of shoppers who use their handheld devices, laptops, and/or desktop computers for every possible task. There are many web applications that are more than capable of facing the task of creating and supporting a high quality online site.  However, nothing beats BigCommerce's range of features and flexible options.  While you can set up an online site yourself, having an expert in BigCommerce development services to help can make all the difference. The professionals in BigCommerce design services can make the best out of the available features to get superlative results for their clients.  With the help of professionals, you can use the BigCommerce platform to customize themes and designs to your needs.  Moreover, other crucial features of the platform like inventory management, product status management, bulk data entry, etc. can all be looked after efficiently.  
BigCommerce is a leader in the field of eCommerce and here are some of the reasons why BigCommerce is the preferred option for those looking to expand online.
Product Data can be easily exported via XML and CSV.

The options available with BigCommerce to describe products online are more than any of its competitors.

BigCommerce has integrated with Alibaba which helps in sourcing quality stock in a streamlined manner.  This works perfectly for new online merchants, who are looking for more products to offer on their store.

Adding customised fields and file uploads are options available with BigCommerce.

The associated payment gateways, though less in number than the competitor, do not charge a transaction fee unlike the competitor.

The starting price options worked out by BigCommerce offer more value for money than those of any other web application provider.

BigCommerce cart saver is again better than the others as it allows the client to send three automated emails to shoppers with abandoned cart unlike most others that send just one email.

BigCommerce allows a third party blog integration for those who need more than just simple blogging capabilities. Those who use Disqus for their reviews and comments will find it so much easier to enable this as the process designed by the platform takes just a few seconds.

Online customers who would like to customise their purchases can do it on sites powered by BigCommerce. There is a text field that can be added as an option on the site.

BigCommerce Web Designers

, employed by the platform, have developed 80 themes that can be purchased for a fee.  This number is higher than what is offered by many others and there are 7 free themes to choose from for those on a tight budget.  Your

BigCommerce web design

is important as it builds superior user experience.  All of the aforementioned options will help you with exactly that.

There are apps, available with the platform, that are easier to install and their packages offer more features that are in built.

Annual discounts are as high as 10% with packages.

Users get guaranteed server uptime, advanced security features, API support, and dedicated IP/SSL address among other features.

Security is a major concern with various businesses.  BigCommerce makes sure that your data is secure and complete privacy is maintained.  This is very pertinent for a business of any size.
These benefits have made BigCommerce one of the preferred tools for BigCommerce web developers.  The features and functions ensure that a top-notch online store can be developed and maintained with relative ease.  All of this has brought this eCommerce platform to the forefront, and its popularity will only go northwards in the future.