New Stencil Theme Engine for the next generation of Bigcommerce Stores
Do you offer Bigcommerce development services ?  Are you a Bigcommerce store owner?  Either way, there's some news for you to take notice of.  Bigcommerce recently announced its latest update – a templating engine that is supposed to power those stores that are built on the Bigcommerce platform.  
What do we know ?
Generally speaking, the process of website designing on any SaaS platform can be extremely inflexible and limiting.  Store-owners have absolutely no flexibility to make alterations to their storefronts.  This means that store-owners need to spend more money to get an agency to perform all the required changes.  
This is where Stencil will bring about a metamorphosis in Bigcommerce web design.  It will append more flexibility to making alterations.  This will be helpful as a store's design can have a direct impact on its revenue, and having a modern templating engine is imperative for that.
What is Stencil ?

Stencil, as we mentioned earlier, is a new approach for the development of store-fronts and themes on Bigcommerce Platform.  It is basically a theming engine that powers the backend of your Bigcommerce store.  In other words, this is that engine that extracts your data & settings to bring them to life in the form of a fully functional Ecommerce website.   Stencil is unique because it builds upon Handlebars.JS system of templating, which is known to be extremely flexible.  What does this mean to you?  It infers that you can make styling changes more promptly.  
Stencil also allows store-owners to have multiple variations of each theme.  This means that they can add more appeal to their storefront.  Moreover, customizing the storefront's look and feel is now possible without any knowledge of codes.
Here are some of the top features of Stencil:
Options for customization
Our Thoughts on Key Components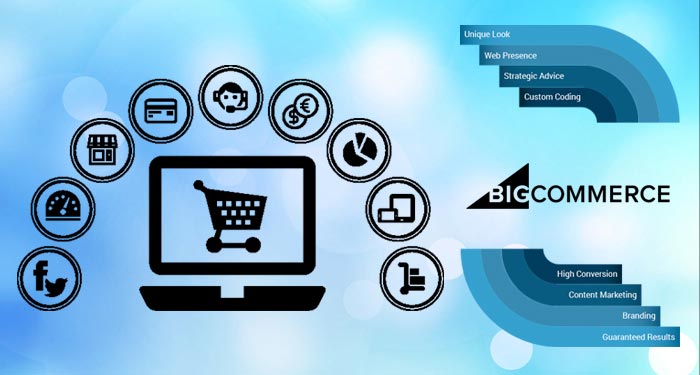 Some of the prominent elements of Stencil make it attractive for the Bigcommerce web developers and store-owners. Here's a look into those key components:
Local Theme Design Iteration (Good for Developers)
Bigcommerce web designers and developers  now get the toolkit that helps them design as well as iterate themes locally.  They shall have complete access to all assets of the storefront.  What's exciting is that all this can happen at the backend, without having a trace of impact on the live storefront.
Theme Marketplace (Good for Developers)
Bigcommerce design services providers will now be able to distribute themes to store-owners through third-party marketplaces.  Hence, if you have created something unique; you might as well distribute it to all the interested store-owners.
Theme Editor (Good for Store-Owners)
Store-owners can promptly customize their themes as well as the storefront's function.  No coding's required for the same, and thus they don't need to rely on an agency to make changes for them.
Improved Brand Resonance (Good for Store-Owners)
Stencil powers great looking storefronts.  That augurs well for the store-owner's brand resonance.
Why Stencil?

Here are some reasons why developers need to adopt Stencil:
Dynamic Storefronts
Stencil presents a range of extremely powerful design functions.  On offer are logic based design templates that make use of lightweight handlebars templating language.  Other key elements include page specific resource definition, options for development of a classy front-end, rapid local redesign & development, testing & preview across different devices, and more.
Smooth Launch
Getting started with Stencil is extremely simple.
Strong Documentation
There's a strong documentation that helps developers to get started with Stencil.  Developers can gain knowledge about the various features available.
Video Demonstration
There are video demonstrations available for Stencil installation & launch, theme editing, key components, etc. These videos are done by Stencil's senior developer, Mick Ryan.
All in all, Stencil is a great new addition to BigCommerce and shall be a boon for developers & store-owners alike.
Get Expert help
We're certified BigCommerce web designers. Contact us today and setup your 15day FREE Trial store.