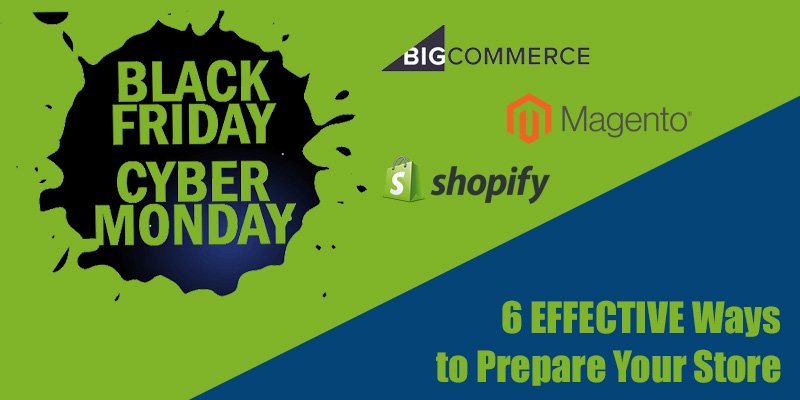 6 Effective Ways to Prepare Your Store for Black Friday Cyber Monday 2019
With the holiday season nearing again, particularly the busiest shopping days of the year – Black Friday and Cyber Monday, no doubt, promises big profits for those eCommerce stores that are user-friendly.
The past records show that during black Friday and Cyber Monday, the collective sales by Shopify merchants were doubled than the normal days that are approx. 1.5 million. And the most astonishing fact is that the shoppers from all the business domains big and small, all sizes, have spent billions throughout the biggest shopping weekend.
Tips To Prepare Your eCommerce Store for Black Friday Cyber Monday
Be an Early Bird – Prepare in Advance
Normally customers start looking for deals in October. And, preparing way earlier than your competitors can fetch you those potential customers. So, if you are still waiting for Black Friday sales, then start planning now for going live. Bring in special offers, which you can create easily if you have a Shopify designed store.
Optimize your products
During the sale, many shoppers are in a quandary looking for what to put in their shopping carts. And this is the best chance for your product to stand out. Optimize your product to search engines along with the proper display. Ensure that your eCommerce store is easily navigable such that your products are discovered without any hassles.
Major Points to Look Into
Build strategies to drive traffic to your eCommerce store
Look for simple ways to create backlinks for your store
Hire Shopify design and development company for hassle-free shopping experience
Set Keyword research strategy to boost sales and traffic
Expand Your Catalogue
When you are looking to go for BIG DAY sales, it is paramount that you bring in more products. This provides varied options for your customers to pick from the vast catalogue. Normally, shoppers also purchase the products that goes well along with the products they are buying and this invariably add up to your sales. And if your store is on Shopify platform, then it is an added advantage as Shopify partner can assist you to add all those products.
Add Coupon Codes
It is profitable to add those coupons on your sales page. Normally, you can entice them with coupon codes to buy more. Some storekeepers think it to be a trivial thing, but going further it turns out to be a mammoth churning in huge sales.
Moreover, before the sales go live, it is important to test your coupon codes. Sometimes, at times of rush, they tend to not work. However, Shopify partners are well aware of such situations and upgrade the system in advance to provide a seamless user experience.
Prepare for Mobile Shopping
For Black Friday 2019 sale, smooth sailing Bigcommerce e-store is not enough. Last year Black Friday and Cyber Monday sales data on Shopify stores show that the mobile shopping has outpaced the online store sales for the first time. And this year is no different with more shoppers using smartphones for the shopping season. Moreover, the coming years will see a boost in mobile shopping and no doubt it will be a new trend.
To lead ahead in the market, it is crucial to Go Mobile. And, with Shopify themes being responsive and mobile-friendly, the task becomes simpler and easier. However, if you don't have a mobile responsive site or mobile app, it is high time to start working on it before the sale starts.
Migration to BigCommerce or Shopify Store
During the sale, eCommerce stores tend to slow down or break down due to huge rush at a time resulting in the loss of sale, especially when they are not on some good platform. So, it is better to migrate your eCommerce store to platforms like BigCommerce or Shopify.
Normally hiring developers from BigCommerce design and development company makes the task easier, as they are highly skilled in migrating your store seamlessly before the BIG SALE weekend starts. Bigcommerce store offers a multitude of benefits not just limited to the sale season.
Make this Black Friday Cyber Monday Successful
Planning, Preparation, Execution and Starting Earlier are the major aspects that can help you to boost your sales. And the BigCommerce design and Development Company provides excellent services when it comes estore building for your business.
For more information about effective ways to prepare your store for Black Friday Contact us today.