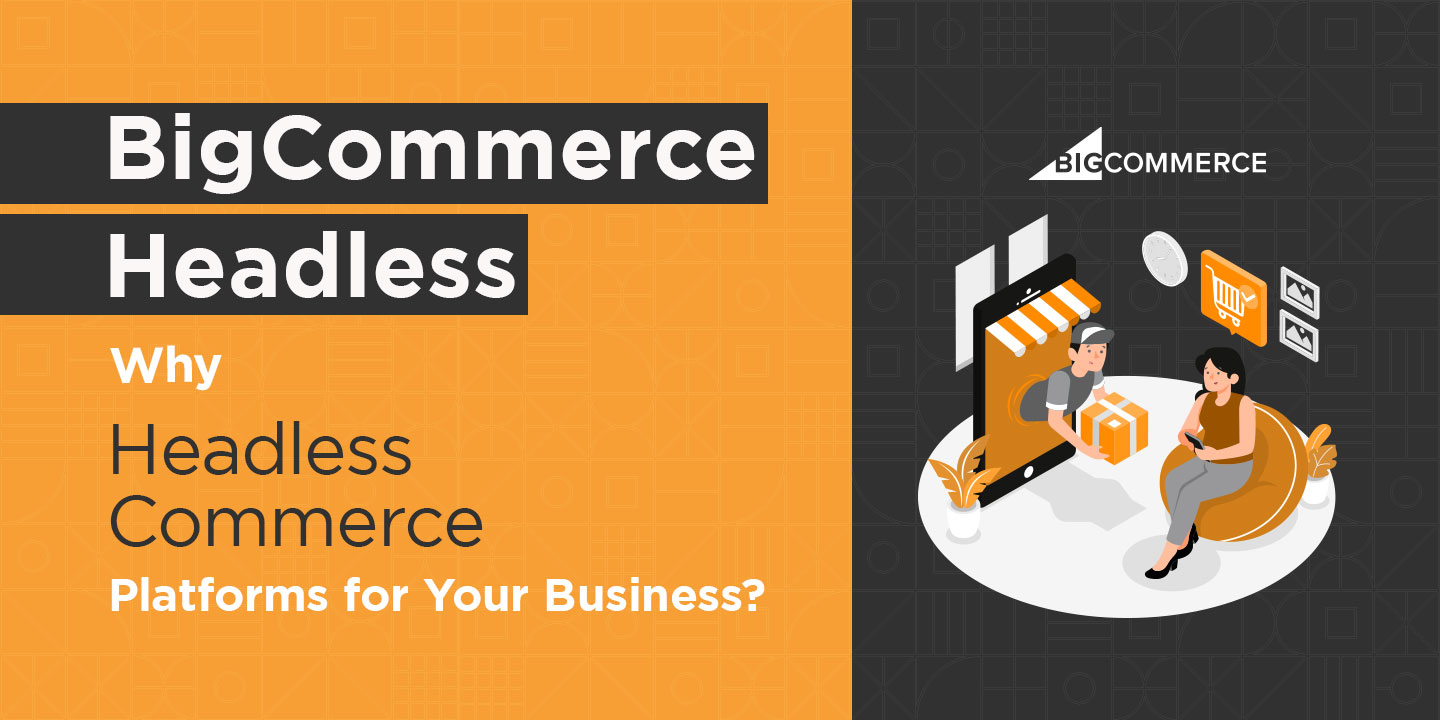 BigCommerce Headless – Why Headless Commerce Platforms for Your Business?
Are you dealing with a low-performing platform for your high-performing business? Or thinking to integrate multiple add-ons and tools from various third parties but 'poor me' you are unable to do that, just because of your non-scalable eCommerce platform.
At times, many businesses may be facing a similar situation for their online business. So, what is the solution that we can find for such challenges?
Let's get on the tracker.
It is evident that BigCommerce is the first choice for many brands who are looking to enhance their brand value and improve their eCommerce functionality in a user-friendly way. And it comes as the first choice for any Bigcommerce development service, Bigcommerce expert USA or any BigCommerce web developer.
And, if you have it running for your e-commerce website, then there is no saying that you want to change it. BigCommerce development with great backend eCommerce services, you definitely don't want to break it. But, as your business expands, and your customer base grows along with the expansion of your product and service range, you will be likely to look for a more advanced solution that can offer a flexibility of frontend storefront.
So, now is the answer to your question about how to deal with your low-performing platform for your expanding business without breaking the backbone of your ecommerce online store.
And, the answer directs us to the BigCommerce Headless commerce development services and solutions.
Changing the backend would be gruesome for bigcommerce web developer or trying to fixate the frontend for BigCommerce web designer or Bigcommerce web design service. But, all this tiresome work is saved with the headless commerce development services. Without waiting a bit more, let's find out more about Bigcommerce headless.
Is headless commerce development a good fit for your business?
What is BigCommerce Headless?
In simple words, according to any BigCommerce expert USA or Headless Commerce Development Company, headless commerce is when you separate the BigCommerce eCommerce functions of your store from the customer-facing frontend experience. Going headless means your BigCommerce enables you to connect to any frontend network, allowing your BigCommerce web designer to design, customize and build your headless storefront for your unique business needs rather than compromising with the so-called restricted and constrained structure.
For example, typical headless commerce platforms can include
BigCommerce for admin and customer data
WordPress as a content management system
Shopify for order management
Chargebee for the subscription billing and so on.
So, interestingly, you can retain all the functionalities that you love about BigCommerce, its scalable and secure backend ecommerce functionality, and get in a CMS of your choice where it is at ease for you to manage all the different types of content and then connect to a frontend, designed and developed by your BigCommerce web design services, which is more interactive, customizable and flexible.
With so much to sort, let's first learn about some of the major benefits of headless commerce platforms and dive into the reasons why you need to opt for a headless bigcommerce as your e-commerce store.
How can I easily get a headless commerce solution for my business?
Benefits of BigCommerce Headless Commerce Platforms
Single Point of Multi-Store Management
If you are looking for developing various storefronts for multiple products or want a separate storefront for your subscriptions, then you require a single point to manage of all them. Surprisingly, Headless BigCommerce comes into play here. The exclusive BigCommerce architecture extensively channelizes, communicates as well as funnels the data from all the installed tools with APIs. Hence, information from all the systems falls back in one place.
Whether it is inventory or store management, or order processing, BigCommerce headless stores data in one place, even though there may be multiple outlets. Finally, it helps you to process more order and enable you to provide better customer service, as all your customers need is correct and timely information.
Double Up Site Speed
Usually, store speed performance is affected due to the added plugins and add-ons to the CMS, which invariably loads the system, slowing it down. However, with the BigCommerce headless, you are removing the load from both the front and backend, freeing up the system. Hence, a better speed and great performance.
The added advantage is that it allows you to make use of Progressive Web Apps – PWAs like Next.js, which allows content delivery through a network and not a server. You can opt for the service of Headless Commerce Development Company for leveraging PWAs in your BigCommerce online store. Hence, making your eCommerce website into a static asset. Undoubtedly, PWAs act as the catalyst and you can see the dramatic increase in your site's speed.
What is headless commerce, and how can it help businesses scale?
Third-Party Backend Services
With Headless Bigcommerce, you get all the freedom to choose any backend services that fit your needs. Not just picking up any CMS of your choice, but also you have the option to pick the backend services of your desired choice rather than sticking to your available BigCommerce options. Some reliable Headless Commerce Development Services can help you in picking up the backend options.
Going Headless for your eCommerce store means you can pick a frontend as a service solution and tag it up with any third-party CMS according to your e-commerce store needs or on the other hand, just get any backend of your choice from a third-party service provider. So, with no obligations to stick around with Bigcommerce, you get the freedom to build the structure according to your needs with the help of any Bigcommerce expert USA.
What is headless commerce, and how can it help businesses scale?
Easy and Faster Testing
When it comes to testing different customer segments like the checkout process or order placement, it is a bit exhausting and odious with Bigcommerce standard setup. With various segments of Bigcommerce interlinked together, just one change at a point can disturb the whole setup or changing a bit in one area can lead to unseen consequences in the entire flow.
And this disturbing testing can be avoided with headless commerce platforms. As the structure becomes headless, the body allows the testing easier and faster on the frontend layer without any inputs from the backend BigCommerce web developer.
Awesome Conversions
And, the biggest advantage the BigCommerce development service offers is Bigcommerce headless which cannot be underrated when it comes to conversions. With increased site speed and performance and a single access point for multiple storefronts, headless helps to get high conversions for your eCommerce store. Moreover, the highly interactive fronted customized by your BigCommerce design service brings unbelievable rewards in the form of high conversions.
The interactive and customizable interface allows for easy and seamless interactions for customers. Moreover, the flexibility for digital marketers allows them to make customizable promotions. All of these bundle up to bring in more conversions, eventually, increasing the sales and profit ratio.
Is Headless CMS a good fit for your business?
Why Going to Headless With BigCommerce?
Loaded with unique and matchless features and functionalities, BigCommerce comes with amazing things like product and order management, reporting, admin and all things to keep your business going on. However, with the expansion of the product list and catalog as well as with your business growing, you require a more customizable and flexible system and structure. You may need to add various functions or want to get a more interactive interface to attract a varied range of customers or a customized interface to cater to the needs of customers from different regions around the world.
So, think how amazing to pick the best microservices that are required for your eCommerce store, this is the freedom you get that BigCommerce offers with its APIs. Whether you want to get a dropshipping app of your choice or looking for a more unique headless web design theme, or desiring to integrate a payment gateway that is feasible for your business, then you have a jackpot with headless. You can choose to integrate custom applications with any tool you want, not just what is available in the BigCommerce app store.
The actionable takeaway is you can apply headless BigComerce to overcome the scalability issues that BigCommerce is unable to address. Hence, you have the flexibility to choose your frontend that your Bigcommerce development service can help to build. So, rather than waiting for things to fall apart, gear up and pick up the headless commerce development services for your growing business.
What are the benefits of headless commerce?
How to Go Headless with BigCommerce?
Whether you have a small product base bigcommerce online store or a gigantic bigcommerce ecommerce online store with a galactic amount of products, it is simple and easier to go for Headless bigcommerce development. Hire BigCommerce web developer, or quote a reliable Headless Commerce Development Company to help you out with your headless commerce development services.