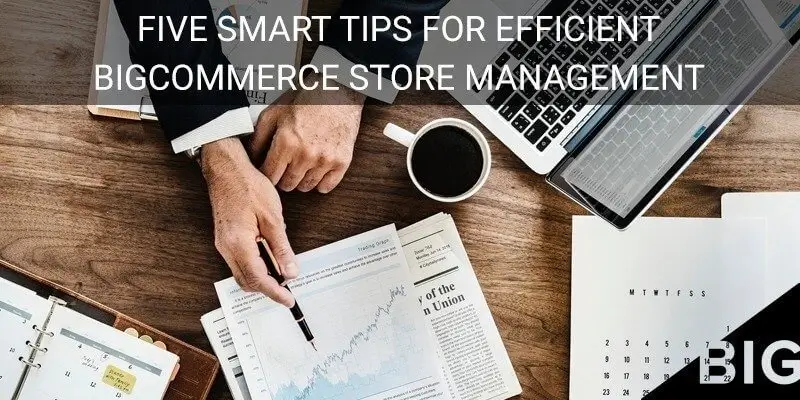 Five Smart Tips for Efficient BigCommerce Store Management
BigCommerce web designers
, or a company that offers competent
BigCommerce development service
to leverage the store facets effectively.
Here are five smart tips that will help you manage your BigCommerce store like an absolute pro:
Categorical Product Management with Full Control of CMS
BigCommerce platform helps users to add and manage inventory well enough through its full-featured CMS that allows a single centralized location to manage the categories with individual products.  By leveraging the CMS, one can create new products especially through the "add a product" wizard with proper mention of SKU, price, tax as well as other details. One can handle the content through HTML code and with complete control of inventory levels and assignment of shipping rules. Product filtering enables shoppers to search for products through varied criteria like size, price, and color, boosting conversion rates.
Quick and Efficient Updates on Inventory
It is important for every store to have their inventory levels managed optimally with proper streamlined operations to encourage conversions. Create sales or clearances if you don't intend to re-stock some products based on their performance. Add the underperforming ones to your sale page and segregate products into clear categories to entice them into making purchases. Add a feature that updates on the inventory and alerts customers when only some of them are remaining, creating a sense of urgency, and thus higher conversion rates. Add new items frequently to convert first-time buyers as regular customers. It is cost-effective to go after existing customers instead of always looking for new ones. It is the prime motto for companies to give shoppers a handy reason to continue getting back to the store. Improve the rate of retention by leveraging demographics with personalized marketing campaigns.
Simplify the Payment Processing and the Checkout Process
With aid from our
BigCommerce experts in USA
, you can accept payments from 60 different payment gateways and there are no transaction fees for any of the gateways you use. Also, one can use credit cards and payment gateways like PayPal, Stripe or Square easily. One can collect offline payments too. It is essential to make the payment processing uncluttered and direct for buyers with not many steps in between. Also, one should realize that consumers abandon items if the checkout process turns out to be more complicated than usual. Designing a simple payment method is key to enhanced user experiences. Also, you can convince the visitors on creating an account, allowing users to save on payment options along with shipping information, thus making the checkout process quicker than before.
Align Marketing Strategy with eCommerce Trends
Ecommerce companies need to be abreast of the trends in the industry through blogs that stay on top of it. Since the industry is volatile, it is essential to loop in about new updates while managing the store.  Learn more about the industry through podcasts like eCommerce Fuel and by participating in groups that promote ecommerce activity on the local front. Base your marketing strategy on ecommerce trends that you get to learn from industry insiders and experts. Leverage tools and technologies with the help of a team of BigCommerce experts in USA to make your job easier and better!
Incorporate Positive Customer Reviews
Most consumers go online to go through handy product reviews, and look for ratings of the product before making their mind to buy a product. It is essential to incorporate a product review feature within the BigCommerce store to boost credibility and drive conversion rates. Approve or disapprove review based on how they would be displayed on site. Correct issues of previous customers so that they are thankful of sorting the problems out. Give a direct answer in case of an issue you created that you will rectify the problem. Gain consumer trust with such actions. You can lean on BigCommerce development services, those who deliver
BigCommerce web design
or a team of
BigCommerce web developers
to leverage the store more effectively than before. Get a hang on the analytical data on the products and conversions. Companies that offer specialized BigCommerce development service focus on running and tracking multi-channel marketing campaigns through different strategies including social marketing, online ads, third party ecommerce channels, and more. For more information about Efficient BigCommerce Store Management or
BigCommerce design service
Contact us
today.