How to Find Your Missing BigCommerce Store Web URL
Bigcommerce is a real gem when it comes to choosing a platform for building your online store. Due to its durability and feasibility, it has more to provide to make your estore highly effective for both users and search engines. Thus, a leading ecommerce builder, BigCommerce offers extreme scalability when it comes to online stores. BigCommerce web design

While handling your BigCommerce store, sometimes, out of the blue, it may happen that you may not be able to access your store or control panel, which may be due to some issues with the domain. And, the common scenario that leads to this situation is when you change your store's domain in the control panel before the domain is pointing to your store. Thus, you end up with no access either to your store or the control panel. Therefore, it is vital to learn and figure out how to find your web address, especially during the crisis, and its various forms, so that in any dire situation, you can easily access your storefront, no doubt in situations like the above mentioned.
Your Store's MISSING URL and The Various Ways To FIND It
It is well known that URL is a Uniform Resource Located, also known as the web address. This specifies the location of a web resource that is your storefront on a computer network that is an internet and a medium to locate it or for retrieving its information. It is quite obvious that when the customers visit your site, your URL appears on their browser's web address. It will look something like www.mybcstore.com. Moreover, if you're on a trial account, your URL will appear nearly as store-mystore.mybigcommerce.com.
If you want to view your storefront and your store's URL, you can do it easily by logging into your store and clicking on the button with "View Store" which appears at the top left of the control panel.
In a situation, where you have connected your store to varied channels like WordPress, then you just need to click on "View Storefronts" to select the storefront which you want to view.
Permanent Address
More of the times called as a "temp URL", the permanent address is a URL associated with your store. Surprisingly, this is something that will never change, and therefore, it can be useful to help you retrieve and access your store in scenarios like the one mentioned above at the starting of the blog. Importantly, you can find your store's permanent address by logging into your BigCommerce Account Dashboard.
Starting there, all you have to do is to click on your store name within the My Account page. Then, scroll down to the 'Details' section to find your
Current Domain, Permanent Address, and Control Panel address URLs.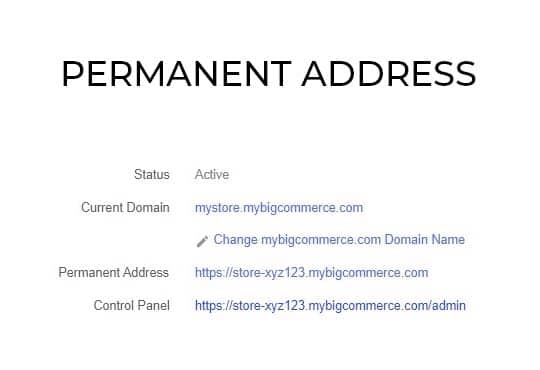 Secure URL – All About Security
Secure URLs are the ones used for the pages which require the data being transferred between the page and your browser to be encrypted, for example, pages such as checkout, and login pages. Precisely, the URL of these pages always begins with https and is accompanied by a padlock in your browser bar.
Important to note that all newly launched stores have Encryption Everywhere and Sitewide HTTPS enabled by default. In the upcoming articles, you can learn more about Sitewide HTTPS and Free SSL Certificate (Encryption Everywhere) for information on using secure URLs on every page of your store. Luckily, a proficient BigCommerce developer can do this effectively.
Finding Your Store's IP Address
In order to find your store's IP address, it takes just a few simple steps. Firstly, go to 'Server Settings' then Email & DNS Records, and click the Web Hosts tab. There you can see a table which includes an 'A' record with your store's IP address listed in the volume column.
Using PING – Locating Your Store's IP Address
In situations like where you are unable to access your store or control panel due to varied issues with the domain, then the best way is to ping your store's 'Permanent URL', this action will return the IP address. With numerous free tools available online, you can easily ping a URL.
Specifically, when your store was first created it was assigned a permanent URL and the following format was used – store-xyz123.mybigcommerce.com. Although you may use the custom domain, the permanent URL will never change. Thus, on the positive note, it will easily help you find and access your BigCommerce online store in situations like the one mentioned in this blog.
One of the biggest challenges and the most common problem that ecommerce developer, BigCommerce designer, and store owner face with Bigcommerce URL is regarding "URL redirect Loop" normally struggled with when multiple storefronts are using the same domain.
Effectively, this has been resolved by providing a Permanent URL to load all the store control panels. This uniquely assigned identification code will easily isolate your control panel from your storefront and other BigCommerce stores. Thus, with each store having its unique permanent URL, you can manage them easily. If you still find it difficult to work or find the URL of your website, then hire the service of BigCommerce expert USA to help you out from this situation.
Looking to Simply BigCommerce for your online store or want to customize your store online on the ecommerce platform, just ask for our BigCommerce developers to help you.