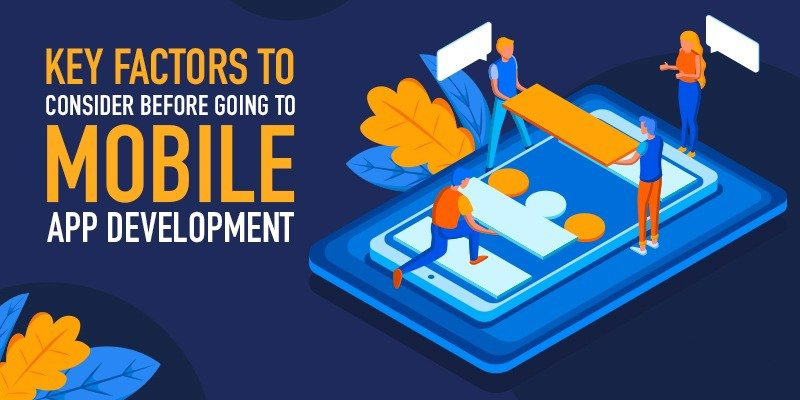 Key Factors to Consider before Going to Mobile App Development
Just like a website, a Mobile App becomes a necessity for a business in any niche. Thanks to mobile evolution and revolution, our big portion of the target audience is available on smart mobiles. However, when you think of a mobile app for you merely following the prevailing trends in the market is not make much sense in itself.
There are multiple factors to take into consideration before jumping on the mobile app development board with a chosen Mobile App Development Company. My aim behind the current post is to create awareness and provide the right approaches to have a mobile app for your business or an idea. Let's begin our exploration right now!
Define Revenue Model of Your Mobile App
When you think of having a mobile app, you must know exactly why you need it. I segregate purposes behind the app development into two main categories based on revenue models.
The first one is to earn from your own business. The second one is app entrepreneurship by creating a generic app targeting a common audience in a niche.
The clarification of revenue model upfront helps app developers to carry target research, fix features & functionality to include. Moreover, a mobile app developer can decide integrations based on your monetization models, such as in-app ads, in-app purchases, or paid downloads.
Validate Your App Concept Upfront
The success of an app greatly depends on how it adds values or provides solutions to the most demanding problems in the app niche. You must ask yourself how my app helps me in my business.
How can it lure the target audience when you are going to sell the app in the market? You can run a guerilla usability survey upfront and validate your concept quickly & cost-effectively.
Define Your USP before an App Investment
USP or Unique Selling Point is a crucial thing in your app success. If you are a business, you must define your differentiators to stand out from your competition. If you are selling an app, it must have strong USP to be unique in the niche category or market.
Define Your Budgetary Constraints for Your Mobile Application Development Project
Once you already know what kinds of features & functions you need in your app or you have a role model of another app to follow/mimic. It becomes easy to get price estimation on the fixed rate.
However, several large scales and many mid-scale app projects adopt Agile Development approaches and prefer to go with MVP (Minimum Viable Product) development to cut the risks involved in it. In such instances, the budget is no more remains a constraint, and it should not be at all.
If you have a fixed budget, you have to compromise with a lot of things like features & functionality in the first place and scalability with various integrations in the next.
Find Out Right Mobile App Development Company for Your Project
Now, it is time to find out the right match in the app development market for your project. You might have several criteria for it, but grabbing the right skill set at a competitive price/rate is a common goal for everyone today.
Of course, the search is daunting, and you need to check portfolio, find dependable references, test the skill sets you to want, and negotiate a lot of terms involved in the project.
Once you set with the right app development team or a freelance mobile application developer of your choice, the role of business analysts will start. The BA team will define your app target audiences and its requirements in details.
They will define use persona at the end. It ultimately helps developers to keep only essential features and functionality by avoiding fancy but useless things in it.
Selection of Mobile OS Platform
It mainly depends on your target audience. You have to target mobile devices and OS platforms only that your target audience use in high percentage. Target audience research can help you in due course. If your target audience is available ubiquitously on the major platforms, thinking of cross-platform app development will prove a wise step.
When user experiences (UX) is a priority in your app, native app development is essential. Thereby, you must find out the right iOS App Development Company or Android App Development Company for your project. Of course, your mobile app developer can guide you righteously to target the right platforms.
Who Can Help You?
DIT India is a renowned app development team extending helping hands to guide its patrons upfront. It provides comprehensive mobile app consulting services free of cost before you prepare to jump in real app designing and programming process. Let's talk about your next project.