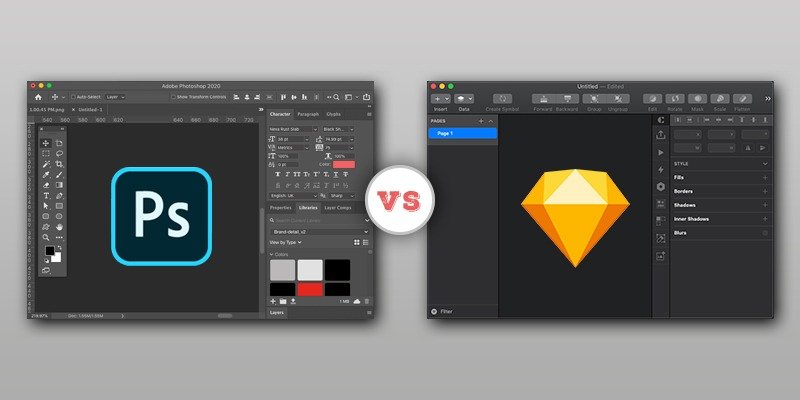 Why Sketch is the Better Option than Photoshop?
SKETCH
has raised its status giving a strong competition to the former designing giant – Photoshop. The most eminent tool for
UX/UI web designer
, it brings out the beautiful features enhancing user experience. Photoshop has had its monopoly through these years, ruling the designing world, but with its overwhelming features, recently, Sketch has got a great steer up and has drastically scaled up becoming the tough rival of Photoshop.
Well let's refresh the history of Photoshop
What is Photoshop?
Photoshop has been the go-to tool for years. Developed by Adobe and being a part of Adobe's creative cloud, Photoshop has been the most used designing tool for
web/graphic designers
. Moreover,
Web Design Company
utilizes Photoshop features comparatively to any other app. Refreshing about Photoshop, now let's unveil Sketch.
What is Sketch?
With an abundance of benefits on its platter to serve, Sketch is dominantly the most popular tool designed and developed by Bohemian Coding. This designing app provides unbelievable agility in operating vector-based files. Loaded with multiple file export facility, Sketch also aids
mobile application designers
to quickly create assets and mockups at every stage of the design process. Leveraging the best of Sketch,
User Experience Design Company
brings in more innovative solutions in the digital art world. Digging a little deeper further, let's see the varied features and benefits of these two giants and compare them. Scaling at the higher position in the industry, Photoshop, definitely, has loads of benefits to reflect on.
Benefits of Photoshop
Time tested desktop app, running successfully since years
Easily goes along with different OS
Default view of a toolbar
Wide range of Plugins and actions makes designing easier
A cornucopia of varied brushes to enhance clarity and layers
Varied features boosts the process
An array of different ways to design both vector and non-vector shapes
A gigantic library stored with a variety of elements for designing
Built-in smart objects that saves time
Extract assets facility to export files
Benefits of Sketch
Cheaper than Photoshop
Light weight, fast and convenient to use
Specifically made for icons design, websites and interfaces
Easy to maintain and maximum output with minimalist tools
Allows accessing all screens side by side. It becomes much easier to make changes and view things.
Multiple preset templates and art-board presets
Tools and values are easily translated to CSS and browsers
Highly interactive websites, and mobile interfaces
Let's compare these two designing rivals for proper clarity of which one to pick.
| | | |
| --- | --- | --- |
| | Photoshop | Sketch |
| Description | A web designer's desktop tool for editing images and graphics | Profusely used by UI/UX designers, an innovative software to create wireframes |
| Compatibility | A product of Adobe works in MAC and Windows OS. | Precisely made for MAC OS |
| Interface | Offers numerous functions and add-on options | A collaboration of Photoshop and Illustrator functionalities |
| User Experience | Quite tricky for newbies aspiring to design creative art | Simple, convenient and easier for newbies to get used to it |
| Features | Provides more of designing and editing features and tools | With minimal designing features, it is just for UX/UI designing – the next-gen software |
| Functioning | Not all images or graphics are vectored in Photoshop | Nothing much to worry about rescaling the artboard as everything in Sketch is vector-based. |
| Plugins | Already embedded with lots of plugins and actions | Requires external plugins for extended functionalities |
With two designing apps propelling side by side, it becomes always a quandary which one goes well for you. Each has its own pros and cons, discover the points that can help you to make the best option.
Why Choose Photoshop?
For some web designers, why Photoshop is the best option is always a grueling question. Photoshop makes it the best tool for graphics professional or web Design Company with its undulating features. Page layout, graphic design and illustration and more, web design services are well acquainted with these features. A lot of things can be done – painting, drawing, typography, photo manipulation, animation cells, and web images and more.
Drawbacks
A lot of time required for honing the skills of photoshop and unleashing its full features Requires huge space on computer lowering the data space.
Why Choose Sketch?
The sketch is a super cool tool for
UX/UI web designers
and
mobile application designers
. The most potent points that make Sketch the best technology for
UX/UI Design Company
can be decrypted here. Convenient to use, as quite intuitive, designers at
UX design service
agencies can adapt to it in a few days. As its core is vector-based, all its elements can easily be scaled without degrading, including drop-shadows, blurs, strokes, and gradients. iOS mirroring – with iOS app, Sketch Mirror, you can see your designs on your phone in real-time. Limitations and benefits are the two faces of a coin. Whether it is Sketch or Photoshop, it depends on what you are looking for. The undeniable and exuberant features of sketch have definitely earned more score over Photoshop.