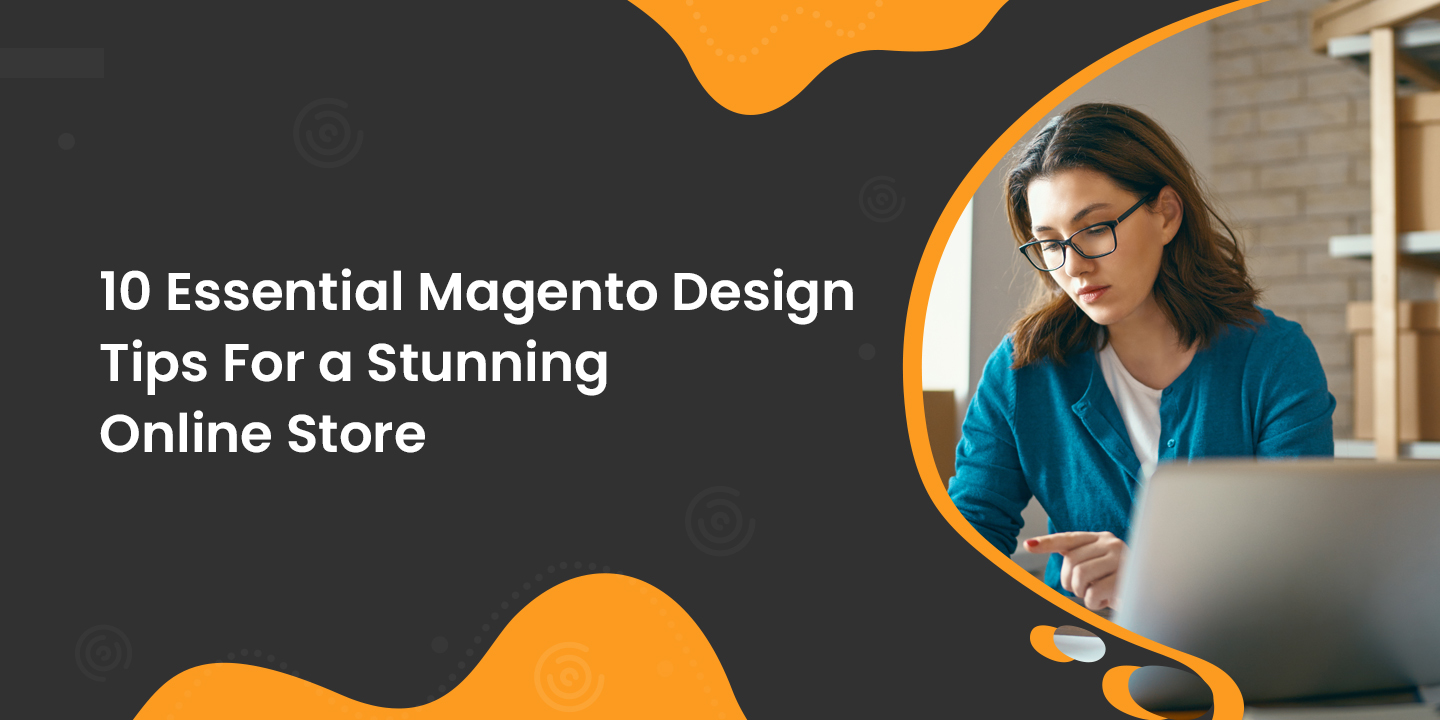 10 Essential Magento Design Tips For A Stunning Online Store
The popularity and demand of online shopping have led to a rapid expansion of e-commerce businesses. It is always advantageous to have an online store built on the Magento platform.
But given the abundance of
Magento
-powered e-commerce websites, how to differentiate your
Magento
online store from the competition? 
It is possible by customizing your Magento e-commerce site. Customization opens up the doors of design and creativity, and these elements create all the difference. 
The design of your store should be pleasant, yet useful to attract visitors and easy enough to order from your store. 
This blog aims to help you understand the importance of design for Magento
Ecommerce
stores. With this, we have listed the top 10 useful and tested tips that help you create a more pleasant and amazing store. 
Let's get going!
Importance of Design in Ecommerce/Online Store
The design or visual appearance of your website plays the most important role in determining the success path of your business. A well-designed website can attract customers to your ecommerce store and increase the likelihood of conversions.
It ensures a convenient and seamless experience for customers. When people shop online, they have plenty of options to choose from. Therefore, it is important to have a website design that offers easy site navigation, efficient search performance, and an overall visually appealing layout. This will help attract and retain more customers while reducing bounce rates.
Magento website development
that exudes professionalism and is user-friendly inspires confidence in the minds of prospective clients. It enables them to access your website from various devices, which is particularly important when considering the anticipated rise in revenue produced by online shopping on smartphones.
A trustworthy and well-designed website can help make a good first impression of your business and contribute to the growth of customer confidence. This is absolutely necessary in order to win over potential customers and increase the volume of your sales. It helps you stand out from the other businesses in your industry and encourages existing customers to purchase from you again.
E-commerce sales can be increased with the help of an effective website design that provides efficient management of product catalogues. You can easily catch the attention of visitors and tempt them to purchase if you strategically place your products and implement strategies for promotion.
Employing
a
professional
Magento development company in India
that specializes in either B2C or B2B
Magento development services
is highly recommended if the goal is to create a visually appealing and functionally sound website.
Top 10 Tips For Creating a Stunning Ecommerce Store Design
Designing has no strict rules, if it looks good, it's ready to go, but when it comes to representing your online business, some tips must be followed. Given below are the top 10 tips that will help you develop a stunning and eye-catching online store:
Embrace Simplicity in Design
When it comes to the layout of an online storefront, keeping things as simple as possible is essential. Take care to keep the page manageable with unimportant elements that divert attention away from the website's primary goal. Maintain an uncluttered design that is easy to understand to draw customers' attention to the products you sell.
Prioritize Branding
Establishing credibility is crucial for the success of an online retail operation. Establishing a trustworthy and easily recognizable identity should be one of your top branding priorities. Carefully crafted marketing campaigns can set your brand apart from those of your competitors and resonate with the audience you are trying to reach.
Think from the Visitor's Perspective
Put yourself in the position of your audience so you can connect with them more effectively. It is important to know what your potential customers are looking for in an e-commerce website, specifically simple navigation and a well-structured layout that makes shopping enjoyable.
Harness the Power of Colors
Users are subject to a variety of psychological effects based on colours. Make strategic use of colours to elicit particular responses and behaviours from the people who visit your site. If you have a good understanding of colour psychology, you can better optimize the design of your online store.
Optimize SEO for Visibility
Having a beautiful website is important, but so is making sure customers can find it. Magento stores need good SEO. Research your target audience's keywords and strategically incorporate them into your website's content. Your target customers can find your online store more easily with SEO optimization.
Utilize High-Quality Images
Images are an extremely important component in turning site visitors into paying customers. Display high-quality images of your products to give potential customers a better idea of what they will be getting when they purchase from you. The visual appeal of your store can also be improved by having a logo designed by a professional.
Make Content Scalable
It is important to refrain from overwhelming site visitors with lengthy descriptions. According to studies, most users only scan content to locate the information they need. To improve readability, you should ensure your content is simple to scan and understand.
Present a Professional Look
The layout of an online store's website must exude professionalism and be compelling to customers. Making an investment in professional
Magento web development
and graphic design
services
can assist in establishing credibility and trust with your clientele.
Simplify Product Navigation
Customers may only abandon a website if the product pages are easy to use. Ensure that the different product categories are straightforward to navigate so that site visitors do not struggle to find the items they require.
Streamline the Checkout Process
A checkout procedure that is difficult to understand or takes excessive time can cause customers to abandon their carts. Customers will have a more positive and satisfying experience if the checkout procedure is easier to understand and streamlined.
Optimize for Mobile Responsiveness
It is essential to have a responsive design as mobile devices are quickly becoming the primary means of accessing the internet. Ensure that your e-commerce website is fully responsive to serve customers using mobile devices and tablets effectively.
Intuitive Navigation is Key
Maintain an easy-to-use and understandable navigation system on your website, especially if you offer a variety of product categories and selections. The user experience is improved when navigation is straightforward, which in turn leads to an increase in conversions and increased customer satisfaction.
The Bottom Line
Magento possesses the ability to create superior-quality front-end user interfaces and designs that can be fully integrated with other web services and external technologies. The feature-rich, theme-based, open-source platform is a popular choice for creating an e-commerce website for organizations of any size and from any domain.
If you want to achieve maximum outcomes from your Magento store, focus on the aesthetics and visual appearance of your online store, customize themes based on your requirement, build a responsive website, focus on creating strong calls-to-action and more. These simple tips will contribute to your online store's overarching success and ensure users experience an enjoyable journey from start to finish.
We at DIT, a certified Magento solution partner, provide the best
Magento ecommerce development
services, including Magento enterprise development, Magento website development, Magento integration and customization, and more. 
We create a visual appearance of your store to bring your dream online business to life and draw more customers to it. 
Let us handle your design and development needs so you can focus on money-making.
Hire Magento developer
from DIT today!