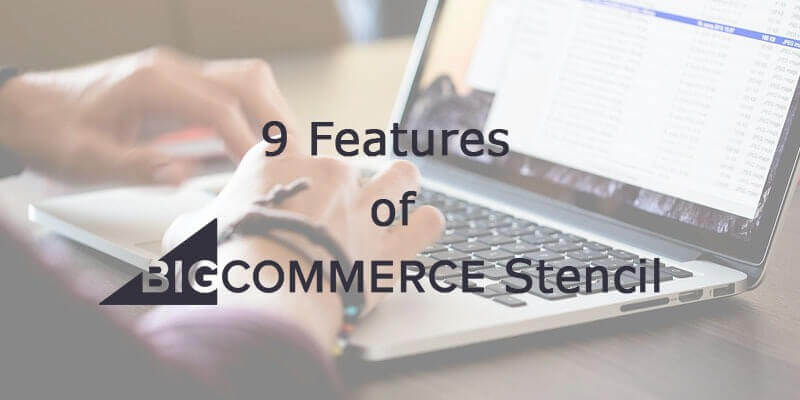 9 Features of BigCommerce Stencil That Will Revolutionize Ecommerce Development
Experts are of the opinion that one of the best eCommerce website solutions is here. We are talking about Stencil, a new framework from BigCommerce that promises to help us get rid of restrictive as well as rigid SaaS systems. The framework will offer unparalleled power, convenience, and flexibility while working with hosted shopping carts. The following features and benefits of BigCommerce Stencil will allow your team of BigCommerce web developers to build a solid foundation for a successful online presence.
Easy & Fast Layout Customization: Most online retailers are not conversant with coding. That's why they hire BigCommerce web designers to help them create a fantastic user experience. These designers ensure that online retailers get what they want from their store. However, Stencil goes further and allows online retailers to edit their site layouts and make changes by just a few clicks.
Theme Style Variation: On the same note, most eCommerce platforms provide to you a single theme with just one variation and style. Stencil is different, though. Once you purchase one theme, it lets you turn that into 4 different themes. This helps your BigCommerce web design team to bring up more options in a small budget.
Local Development Environment: When the team of BigCommerce web developers is working on updating the site, they don't need to interrupt the functioning of the live website. Once the development team makes a copy of the theme on the local system, all the changes can be done right there. This brings numerous benefits to the developers and the clients:

Stencil gets real site data with the help of its APIs. The local site is, hence, very close to the real site. This eliminates the steps required in testing the actual site after it has gone live.
There are numerous chances of bugs and errors creeping into an eCommerce store. This leads to unhappy customers as well as loss of sales. Local development ensures that all the bugs and errors are identified as well as fixed quickly on the local site.
Because there are ready-to-use libraries and companies, the development process becomes faster.
Development work is easy to share with clients during the development process. This is with the help of an IP address that is generated by BigCommerce stencil. Hence, clients can have real-time look at the changes

YAML Front Matter: BluePrint, the old BigCommerce theme framework, used to require loading a large set of data even if a small part was needed to be used. This, as you would have guessed, could affect site speed. Stencil, on the other hand, is different. It is powered by YAML Front Matter. This lets the framework display absolutely any site content any page differently.
Handlebars Templating Language: When it comes to customization, hosting platforms have great limitations. It is difficult for developers to add customized code or change the functionality of the theme. This was applicable to BigCommerce web developers too. Not anymore! Stencil has shattered all the limitations. It has integrated Handlebars Template Language which allows developers to have complete access to all data objects. All Stencil data objects like customers objects, cart objects, product objects can be manipulated by making use of Handlebars.js expressions.
BrowserSync: At the time of testing, it is very time consuming to manually load each page for all devices. Stencil makes use of Browser Sync which means that you can view the changes for any screen size easily. This obviously makes testing easier and faster.
Fast Page Load: Your buyers are impatient and they don't want to wait. Stencil makes use of best practices and standards to improve your site's page speed.
Personalization: Your team of BigCommerce web developers has complete control over your site content. Hence, you can personalize the view and content of the site for individual customers.
Rich Front-End UI/UX Development: User Experience's importance in your site is unrivaled. BigCommerce Stencil is equipped with tools to help BigCommerce web designers create intuitive UIs.
Hence, Stencil is all set to revolutionize the process of eCommerce development. It will let developers take any design element and change them without affecting the live site. This is a new era in the field and the future of it.