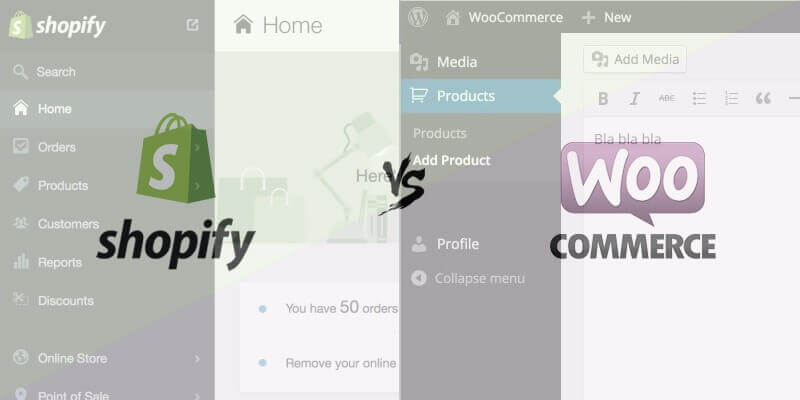 Both Shopify and WooCommerce are extremely popular eCcommerce platforms. They can be the perfect solution for your requirement. Choosing between the two platforms is completely a matter of choice. It depends upon what your requirement is and you go from there. You need to consider what features you need, what pricing you can afford, what kind of graphics you need on the site, your desire for flexibility, etc. Here's a detailed comparison of these 2 platforms for you to identify which platform works best for your needs:
– Design: Design is absolutely imperative for an online store. Your users will not trust you if you have a messy design. Therefore, this feature needs to be considered important. Between the 2 platforms under consideration, WooCommerce seems to have an edge over Shopify. Apart from some of the WooCommerce themes, you can literally take any WordPress theme and make that work with the platform. If you don't know already, there are tons of WordPress themes available to be used.
– Pricing: Many Shopify developers suggest that their clients are extremely concerned about their budget. If that's the case with you, you will be interested in finding out which platform wins on the pricing game. Shopify presents a very clear and straightforward pricing methodology. WooCommerce, on the other hand, can hit your wallet a little harder. Shopify offers an out of the box solution. It is like paying the price, opening the box, and using it. On the other, WooCommerce can be tricky. It is an Open Source tool, and hence it is technically free. However, that is downloading it. What happens when you start using it? There are costs that pile up for SSL certification, additional extensions like SEO, etc. All in all, Shopify tends to win in this regard.
– Features: You need to be absolutely concerned about the features on offer. When you hire Shopify developers for the coding and Shopify designers for the front-end, you want to ensure that they have the top of the line features to work with. Both Shopify and WooCommerce tend to be even in this regard. In other words, both of those have pretty enviable features to offer to their customers. Shopify, for example, offers such features unlimited products, manual order creation, individual product review, unlimited file storage, automatic fraud analysis, free SSL certification, and more. On the other hand, WooCommerce is not lagging behind either. The platform works perfectly, whether you have a physical product, a digital product, or even want to start affiliate marketing. On the other hand, you can process payment with PayPal, have unlimited products, have unlimited product categories, mobile-friendly structure, and more more. Hence, if you are highly concerned about the features; you can pick any of the 2 platforms.
– Ease of use: Your Shopify services company can develop the online store for you. However, you need to work with it. Hence, ease of use is an important aspect of the equation. Shopify wins the battle again here. All you need to do with Shopify is to visit their website, sign up, and you are done. You get access to the dashboard which is pretty exhaustive. On other hand, WooCommerce is almost as easy but not exactly. While working with it is easy, downloading it can be tricky. It is a Wosrdpress plugin, and that infers that you need to get a few things done before you start working with it.
– Support: Shopify offers 24/7 support, and that trumps all other great features that WooCommerce presents.
– SEO: In terms of Search Engine Optimization, Shopify is better than WooCommerce.
In short, your choice depends upon your requirement. However, broadly speaking; Shopify seems to do a slightly better job than WooCommerce.