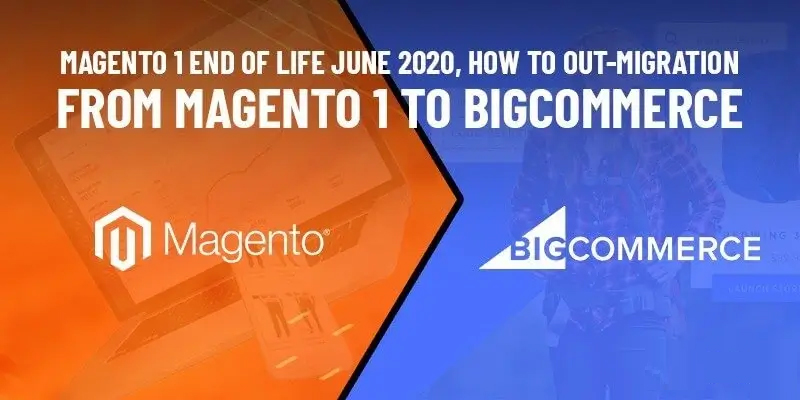 Magento 1 End of Life June 2020, How to Out-Migration from Magento 1 to BigCommerce
Magento 1 Support End Date – June 2020
. It means no more updates for security, performance, design, and so on. Your Magento store has to face various vulnerabilities and threats prevailing in the world of the Internet. Once the official platform is withdrawing support, 3rd party security integrations or installations remain useless. Thereby, Magento 1x storeowners have a dilemma about where to go now. They have two options, migrate to Magento 2 platform or look platforms other than Magento but completely compatible with Magento in all means and deeds.
Magento 1 Support End – June 2020 : Move from Magento 1 to BigCommerce.
Issues with Magento 1 to Magento 2 Migration
However, migrating from Magento 1 to Magento 2 is not simple and easy as you think about the version upgrades. Here are some exclusive problems to deal with when
Move from Magento 1 to BigCommerce
. For instance,
 Themes
You need to create a new and compatible theme for your store on Magento 2 because Magento 2 is not supporting themes made for the previous platform. You may know the cost of theme development from scratch.
Extensions
Similarly, Magento 2 is not supporting extensions and other components used in Magento 1 platform. It means you have to look for the entire new set of plugins for customization of your Magento 2 store during the migration process. Unfortunately, the new platform always scarce in extensions you need. Thus, if existing extensions on Magento 2 platforms are not sufficed for you, the need arises to create a custom extension from scratch for your storefront, and it costs dearly at the end.
3rd Party Integrations
The same goes true for the 3rd party integrations, such as POS, CRM, ERP, and so on where active and positive support becomes essentiality to make your 3rd party software and service integrations compatible for the new eCommerce platform.
Custom Code
Finally, custom code & scripts sometimes remained platform-specific, and demand brings new platform compatibility from the original creator or others it in the developer community. If you are suffering from time, resources, and budgetary constraints, Magento 2 migration could not be a good option for you. So, the question is which contemporary eCommerce platform prove compatible with Magento 1 and provide a better option for your online shop.
Move to BigCommerce saas platform – Magento 1 Support End – June 2020
Reasons to Opt for BigCommerce
Many eCommerce platforms are claiming to be a superior choice, but hardly anyone can withstand to BigCommerce. You may wonder how, and let me give some reasons for it.
Themes
The theme is an eCommerce store is encompassing various design aspects. It means the more themes available in the market you have more design options for your online shop. BigCommerce is offering more than five dozen (60) free or paid themes in the marketplace. Magento offers only 15 and something themes to choose. Magento custom theme market is huge and proves a costly affair when you are going to create a theme from scratch. Therefore, BigCommerce is superior, convenient, and cost-effective eCommerce platform as far as the themes are concerning.
Extensions
Magento has a huge marketplace for extensions and offers immense capacities to extend customization beyond imagination. However, extensions bring multiple dependencies and end up in further intricacies. BigCommerce is proactive here and offers built-in features, which almost alleviate needs for the extensions. Moreover, extensions on BigCommerce marketplaces are affordable for all.
Time-to-Market
BigCommerce is a SaaS platform, so you need to pick a plan, theme, and tweak it, and go live after providing required info and content. If you think of extensive customization, it will eat up barely one month to go live. Magento is complex technically and demand intensive resources, time, and even monetary investment in bulk!
Cost
For Magento merchants, everything is costly, like themes, extensions, third-party integrations, and even support & maintenance when you are going for
Magento 1 to BigCommerce Migration
. On BigCommerce, being a SaaS-based platform, you have to pay only subscription fees on a monthly basis, and some additional data charges while seasonal spikes surge occurs on your storefront. You can update and upgrade it as you grow without any initial investment.
Conclusion:
Magento is king in an eCommerce platform, but bearing a king is always a costly affair, Magento 2 migration may prove a non-feasible option for you. BigCommerce is a SaaS-based eCommerce solution and almost overcome pitfalls of Magento in many respects. Therefore, if you think of migration from Magento 1 to BigCommerce, you need the right team to accomplish it. DIT India has an impeccable team of BigCommerce developers who have hands-on expertise in
Magento to BigCommerce migration
. Thus, you will get secure, safe, and fully compatible migration process smoothly. A little bit conversations on how it could be may help you to build a long-lasting relationship with the team.