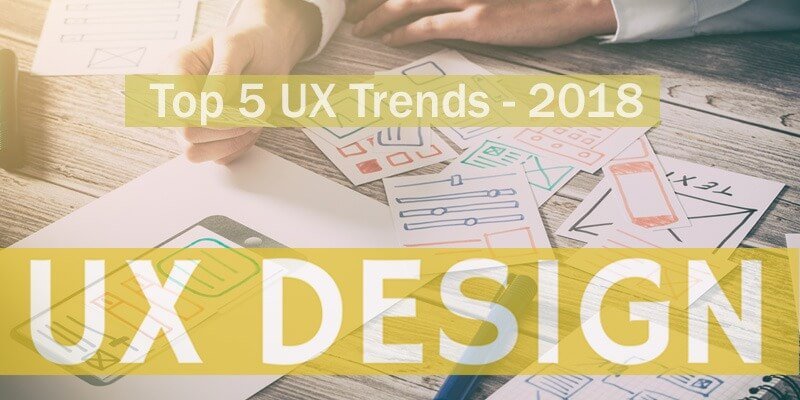 Top 5 UX Trends That Will Define the Space in 2018
No development or innovation happens too early in the field of user experience design. Being a user experience design company, we have seen how quickly this industry transforms. As soon as you implement a recent UX trend today, the industry is already looking forward to something else. So, the secret to thrive for a user experience designer or the company that owns a website is to keep an eye on the foreseeable future. You need to have a sense of which trends will affect the market in the times to come. Here are some UX trends that we think will make a big impact in 2018:
Split Screen Website Design: The concept of splitting the screen vertically is not new. It has been around for some time, but it is picking up in popularity only recently. Under this trend, the screen is divided vertically. The good point about this is that you get to convey two messages from the same screen. Plus, this design technique eliminates the regular header hierarchy. By making your website unique, you stand out amidst competition. Moreover, it also gives the user experience designer an opportunity to play with contrasting themes and colors. It is more convenient to draw the user's attention to a specific part of the page. To make this design concept mobile friendly, you can stack your screen sections horizontally.
Geometric Shapes & Patterns: If you closely follow the user experience space, you would know that this trend of using geometric shapes and patterns began in 2016. However, it has turned into something big recently. By mixing up different shapes and patterns, a designer can make it interesting for the users. Till recently, Flat UIs was the go-to design concept. However, users find them confusion and tend to miss cues on where to click. You want to avoid that and reduce the amount of work that your users need to put.
Customized Cinemagraphs: Ask your UX company about customized cinemagraphs. Cinemagraphs are a combination of photo and video. To create such a cinemagraph, a high-quality photograph is looped into a video reel. It creates an illusion that the photo is moving. So, what is the advantage of this concept? It is that these cinemagraphs aren't static like photos, but they don't consume a lot of space either. You should ask your UX company to create a customized cinemagraph for your needs.
Voice-based Website Apps: There are many voice-based apps that are becoming popular. Think of Siri, Cortona, Alexa, etc. They are all making it convenient for users to communicate with the app. The same thing can be replicated for your website as well to make browsing convenient. Moreover, by being able to communicate with a website through voice; users feel closer to the brand. This builds a brand connect that further enhances your chances of improved sales. There are various guides, codes, and templates available to implement such voice interfaces.
Native Advertising: In the year 2017, Google penalized various websites that were not using advertising properly. These ads were blocking content or making it difficult for users to access content. This affects the overall user experience, and Google had been receiving numerous complaints about the same. Native advertising can fill the void for you. As the name suggests, such advertising blends into your website's form and function. Therefore, it is not interruptive anymore. In fact, it appears to be a part of your website and content.
These are some of the trends that we think will rule the roost in 2018. Have we missed any trend? Share your thoughts with us in the comments section. On the other hand, if you are looking for experienced UX design services; you can contact us via phone or email.