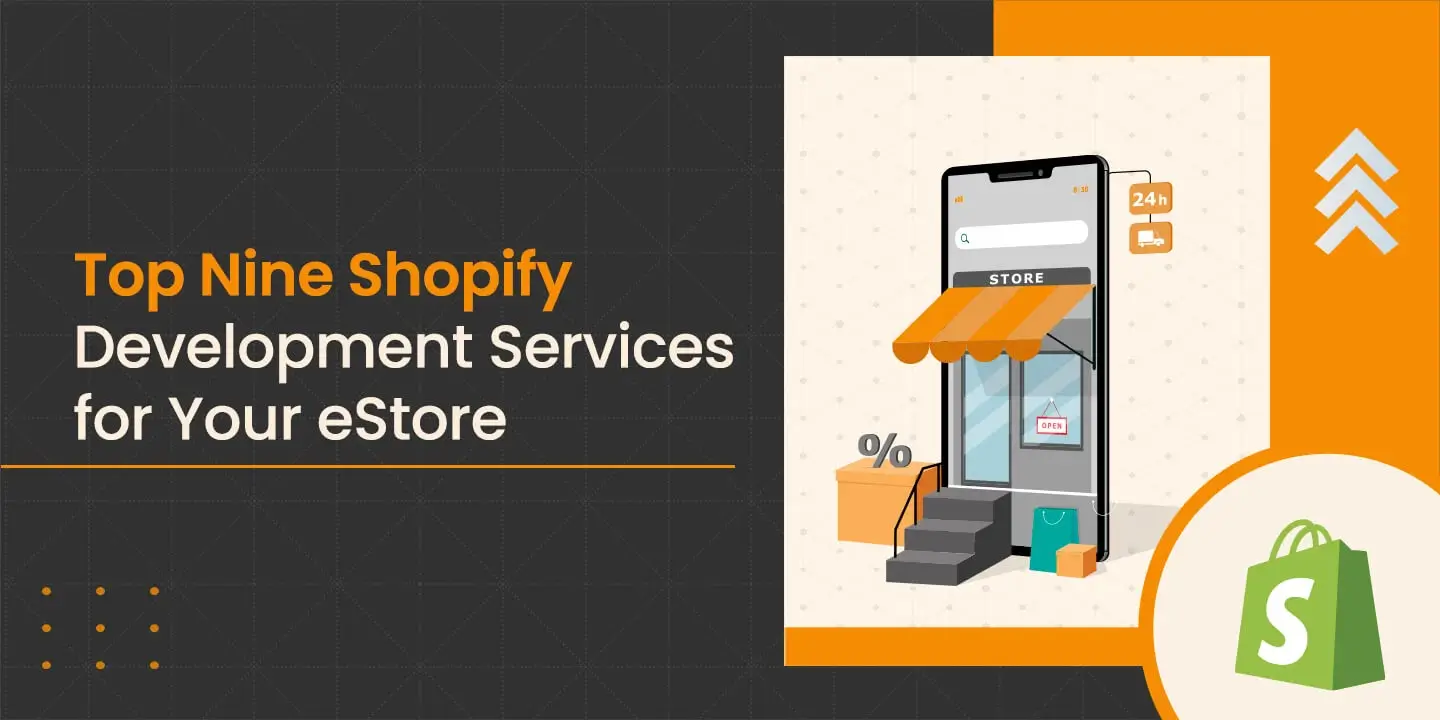 Top Nine Shopify Development Services for Your eStore in 2023
A Peep Into Shopify Development Services
With e-commerce increasing and spreading expansively across every part of the earth, Shopify development services are backing the ecosystem to grow more. In this digital era, where businesses are getting totally online, technologies like Shopify and Woocommerce are emerging strongly to help enterprises to expand without any limits. 
Shopify development services refer to creating and customizing e-commerce websites using the Shopify platform and
Shopify services
. Shopify is a popular, cloud-based e-commerce platform that enables individuals and businesses to create and manage an online store. Shopify development services include various activities such as theme customization, app development, custom plugin development, and integrations with other systems. These services help businesses create a unique and functional online store that meets their specific requirements and enhances their customers' shopping experience. Shopify services aim to help businesses effectively sell their products and services online.
How Do Shopify Development Services Help Businesses to Grow?
With its huge range of abilities,
Shopify development services
help businesses to grow. Hire
Shopify experts in India
and find out how the services can help your business as mentioned below.
Increased visibility
: A well-designed and functional online store crafted by an experienced Shopify designer can increase a business's visibility and attract more customers.
Improved User Experienc
e: A user-friendly website with a streamlined checkout process and clear navigation can improve customer satisfaction and increase sales.
Customization:
Shopify services can create a customized online store that meets the specific needs and requirements of a business, helping it stand out from the competition.
Integration with other systems:
Integrating Shopify with other systems such as accounting software, marketing tools, and shipping carriers can streamline the sales and order fulfilment process, saving time and increasing efficiency.
Access to a large app store:
Shopify has a large app store that provides businesses with access to a wide range of tools and plugins to enhance their online store. You can hire a
Shopify developer
to create custom features leveraging innovative tools and techniques and improve your website's functionality as well as grow its presence. 
Mobile responsiveness:
Shopify is designed to be mobile-friendly, which is important given the increasing number of customers who shop on mobile devices. A mobile-responsive website can improve the customer experience and help businesses reach a wider audience. A
Shopify design expert
can craft a mobile responsive interface that provides a seamless customer experience. 
By leveraging the power of the Shopify platform and utilizing the services of Shopify developer India, businesses can improve their online presence, streamline their operations, and increase their sales.
So, to give a boost to your online web store, let's see what the latest Shopify development services trends are in 2023.
Here are the top NINE Shopify development services in 2023
Shopify Theme Development and Customization Service
Customizing the look and feel of a Shopify store to match a business's brand and aesthetic can improve the customer experience and increase conversions. With the Shopify platform, it is easier to customize your store according to your growing business needs and customers' evolving expectations. Hire an expert Shopify developer India to craft a real-gem for your business. 
Shopify App Development Service 
Developing custom apps that extend the functionality of a Shopify store can help businesses improve their operations and streamline processes. It not only helps your organization internally but also enables your customers to reach out to you without any hassles, thus, helping to grow your business. 
3rd-Party Integration Service
It is crucial to integrate different components into your online store for your overall online presence. Along with marketing funnels, integrating other technologies with Shopify helps your business to scale up. Shopify integration with other systems such as accounting software, shipping carriers and marketing tools can help your business automate operations and increase efficiency.
Shopify Migration Services
It is evident that many of you may have not started your eCommerce development journey with Shopify but have picked on other platforms such as WooCommerce, Magento, or Wix. However, if you wish to switch to the Shopify platform then the good news is that Shopify enables migrating your shop data from other platforms without losing any vital information. There are Shopify experts in India that can carry out this process professionally and quickly providing services to migrate from one platform to another. 
Shopify Plus Enterprise Services
When it comes to Shopify Plus enterprises, the style of development is nothing but larger including complex systems. Usually, Shopify Plus merchants have a massive database related to store and do require highly skilled Shopify developers of Shopify designers to handle this complexity and immensity. Therefore, it is always on the safer side to hire a trusted and reliable Shopify development service agency to handle your store's development and customization. 
Shopify Performance Optimization Service
It is likely for the sales and users' click-through rate goes down when your Shopify web store is not on the right track. Therefore, improving the speed and performance of a Shopify store is crucial as it helps improve the user experience, reduce bounce rates, and increase conversions.
PSD to Shopify Theme Conversion
For
Shopify custom design
, photoshop is an inevitable tool to sketch and create a design when building a Shopify theme. Hence, for this photoshop design (PSD) to be converted into a functional Shopify page, store owners must have CSS/HTML knowledge along with knowing the customization settings of Shopify. However, various Shopify design experts or dedicated
Shopify designers
can offer this type of service to shop owners. 
Shopify Store Updating and Maintenance Service
This goes without a say as every Shopify online store needs to be updated regularly according to the latest version and additions of the Shopify framework. For the long-term factors of a sustainable online store, you can't miss updating and maintenance. If you are not experienced with this or don't have knowledge of coding or technology, then it is best to leave this job to an experienced
Shopify Developer India
or hire Shopify development team to optimize and maintain the store regularly. 
Nobody can miss SEO as it is an integral part of any online business to grow and increase its conversion. It is not only a strategy to increase conversion rate but also for getting organic traffic and a guide to optimize the online store for changing Google Algorithms. No doubt, SEO services are multi-faceted and cover a plethora of activities to run through the processes. From improving site ranking, implementing XML sitemaps and Google Analytics or giving SEO or marketing advice. And, this trend is going to be nowhere due to its potential to help businesses to increase their online presence.  
Wrapping Up
These are some of the top Shopify development services trends in 2023 that businesses should not miss as implementing these trends can help businesses improve their online presence, increase sales, and streamline their operations. It's important for businesses to choose a reliable and experienced Shopify development team or Shopify experts in India to ensure the success of their online store.