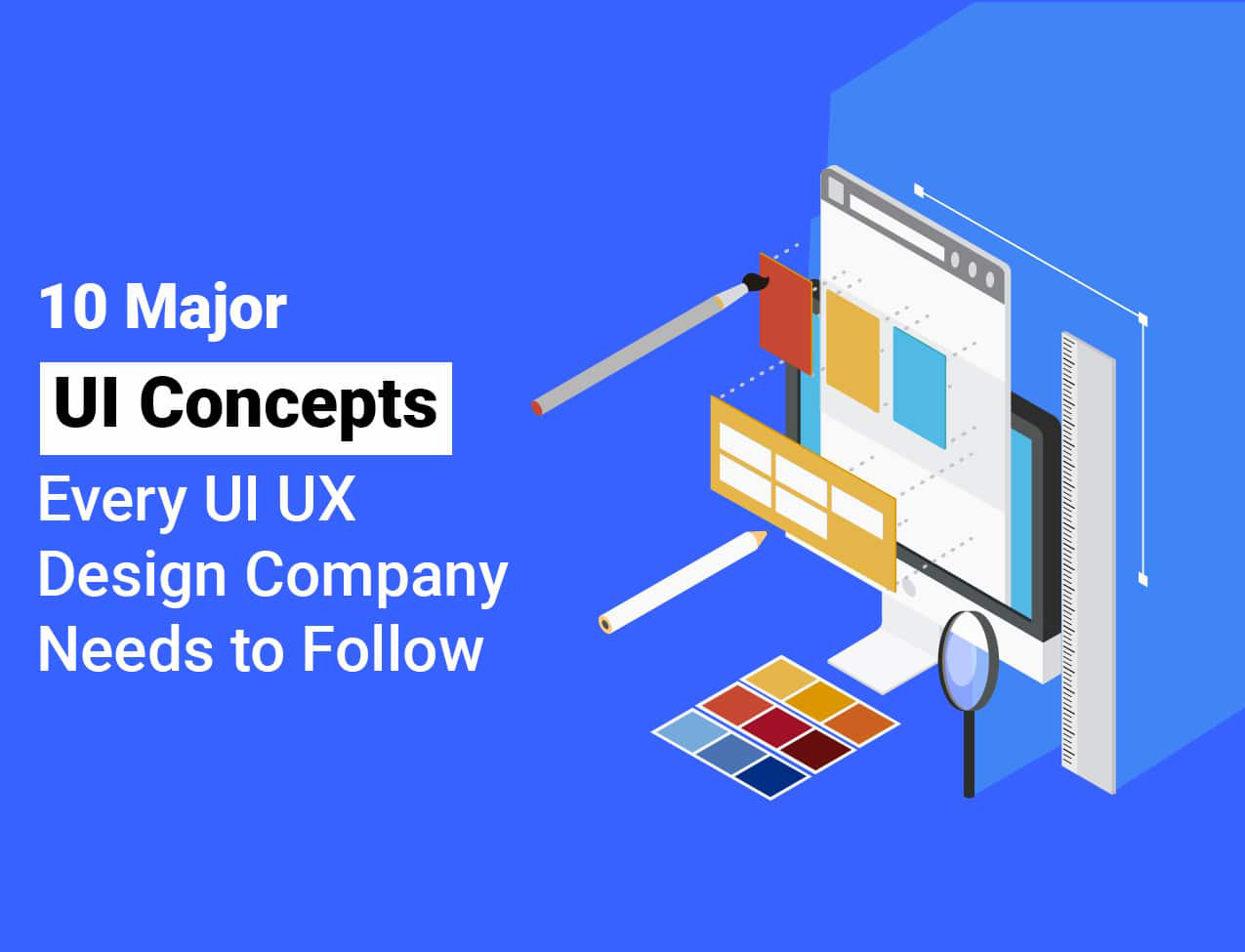 10 Major UI Concepts Every UI UX Design Company Needs to Follow
For a UI/UX web designer, User Interface is the most crucial part that they have to closely watch and pay their full attention. UI design is not just a simple design but a step ahead of where it is a lot about creating interfaces that users can interact smoothly without any hassles.
Thus, there comes a question for every
UI/UX developer
on how to design and develop interfaces that are eloquent, user-oriented, effective, and easy to use. And, one of the best ways is to follow Interface Design Principles to get the desired results. And the added advantage – leveraging these principles and concepts in mind, designers can craft great design interfaces quicker and easier.
Let us discover all of them here…
User-Centered Design
Keeping users at the center and creating designs for them is all about user centered design. Though you may be designing a solution, ultimately, it is the user who will interact with your product. Therefore, it becomes your prime goal to know your target audience. UI/UX web designers should know users through intensive research while figuring out their needs, wants, and behaviors.
Clarityc
Clarity is the most important part of any interface. For our interface to be effective, people need to know about it in the first place, recognize what it is about, and why they would use it, how it will be useful to them, and then successfully interact with it. While there is room for exploring more, there shouldn't be any room for confusion. Thus, clarity provokes confidence and further inspires to use and interact with it.
Appearance Follows Behavior
Humans are always comfortable with the things that behave as they predict. Anything out of the way or that may turn out to be unpredictable can only piss them out. Thus, the design elements should look like how they behave. Just looking at the interface, users should be able to predict what it is for and how it would behave. Suppose a button is given then it should merely act like a button, without trying to offer something different. Don't make the basic interaction quite complicated…keep it simple while storing that creativity for something else.
Consistency Is Paramount
Many May fall to the idea to offer something different at every stage. However, screen elements should appear the same when their functionality is the same. Moreover, elements should look consistent unless they have different roles. Consistency can help users to get easily acquainted with the product features and leaves a good impression. A lack of consistency can mislead the users and can cause bad user experience. However, it is not imperative to use this principle everywhere. Sometimes, a little out of the box design can offer a sweet experience.
Visual Hierarchy
Viewing the same items in the same order every time creates a strong visual hierarchy. A poor visual hierarchy can make it difficult where to have a gaze and end up feeling cluttered and confusing. In the environment of change, it is difficult to persist a strong visual hierarchy because when everything is bold, all seems the same, and nothing seems to be bold. Thus, a designer needs to adjust the visual weight of all elements to gain a strong hierarchy.
Reduce Cognitive Load
You may see simplicity rules. Thus, create screen elements that can make as many things like the few. This enables users to understand your interface easier and more quickly, as the coherent relationships of content in the design. Progressive Disclosure Don't clutter everything onto one screen only. Show only what is necessary on each screen. If people are making a choice, show enough information to allow them to pick their options.
Efficiency
Interface efficiency is prominent for any design and this you can achieve through task analysis. To get the best idea about this is through this mock test. Imagine that you are a user and then try to imitate the user's processes, understand the user's goals. Following this, you can streamline the process as much as possible. About this, you can help users to find the things they are looking for quickly and easily. Always the first thing from the users' point of view, what they want, and how they are going to process the things and what they need during the interaction.
Content Scannable
For a human's brain to memorize everything in a short time is quite difficult as the brain's short-term memory has limitations. Moreover, in this digital age, it is common that the users do not read the content, they simply scan through it. This is something that designers should never ignore. Thus, designers need to minimize the memory burden for the users by offering scannable content.
Well-Organized Layout
A mobile app designer should always consider crafting a well-organized layout when designing websites. A concise, clear, logical, and well-organized layout makes the interface user-friendly assisting the users to understand your interface easier and faster. An excellent layout lowers the cognitive load and provides users clarity.
Let's Conclude:
Following these principles religiously, UI/UX web designers can improve their UI design process. Not limited to this, an experienced
UI UX Design Company
is well acquainted with multiple techniques to improve the design procedure of the user interface, whether it is a software web store or a mobile app. The major goal behind using these UI design principles for an impactful user interface is to make it comfortable and easy to use for users. The best user interface design attracts more customers invariantly increasing the conversion ratio. And, if your web store interface is a mess with no proper flow, it is in your good to
outsource UX design
. This not enhances your user interface design but helps to give a push to your business where you gain a subtle growth.