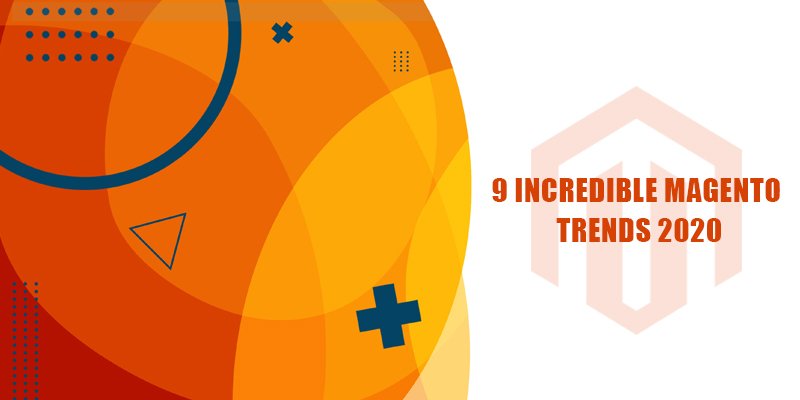 9 Incredible Magento Trends Never to Miss This 2020
Magento Development Services,
Magento has earned the second position in popularity. Whether small businesses, or big brands, all are turning towards Magento due to many of its features, and unwavering growth prospect. So, if you are looking for an ecommerce store development, Magento can be your best bit. And if you are
Magento website Design Company,
Magento eCommerce Development Company, or Magento developer or designer, or ecommerce venture capitalist or already have an ecommerce website in Magento, then here are the latest trends of Magento for 2020 that should never be missed.
Personalized Experiences
With the intense competition in the market, vendors are looking forward to offer a more personalized experience to attract customers. And, nothing else can offer an exclusive customization than Magento. Being the biggest platform for ecommerce, Magento is loaded with all the latest features, which can help merchants to create more customized solutions according to their customers demand. From enticing customers to retaining them and gaining their loyalty, personalization helps businesses in numerous ways. Personalization can be developing specific coupons, providing personalized services, to product suggestions based on favorites and more.
Chatbot & AI
Since its release, chatbots and AI has become an integral part of Ecommerce stores. With their undulating services, both chatbots and AIs have set the revolution in e-commerce industry. With chatbots assisting humans in customer management and AI helping in developing marketing strategies, they are among the best Magento features, normally, used in
magento web development.
Though they are at the development stage, they have taken up on the Magento trends 2020.
Improved Practiced Of Material Design
Launched by Google in 2014, Material design is up in the trend by becoming the most important solution for ecommerce stores. Embedded with grids, padding, reactive transitions and animations, and effects of depths such as shadows and lightning, Material design proves to enhance the user experience. And, this is never ignored by the
magento design services.
Some major benefits are – it allows speed loading, nix down decorative elements that hinders user interface. Leveraging Material design, magento developers can offer more space on online stores to provide a clean and sleek design.
Mobile Friendly
Many online stores are looking forward to Magento Development for mobile phones to target and tap the users who use their cell phones to shop. To target the vast market of mobile users, website stores are looking for mobile responsive estores, which can benefit the owners a lot. Various pages that are mobile friendly are fast to load, which essentially benefits the site owners. And, Magento has the unique approach with their specific rules to make their platforms mobile – friendly. With mobile being the future, Magento mobile responsive is no where going out of the trend.
Enhanced Interactivity
Innovative, simple and seamless are the websites, which usually catches the eyes of visitors. And, the hassle free shopping experience is the one which only Magento features can offer. The ecommerce development service offers the most interactive experience to new users and personalized services to the returning visitors. Making customers feel special and recognized, with excellent treatment, is what helps in growing customer retention. Magento always provide this enhanced user interactivity keeping it on the log of 2020 Magento trends.
Push Notifications
Ecommerce stores use multiple mediums to reach customers and push notifications is among the trends. This special entity supports businesses to reach out to their customers at a larger level. Sending push notifications, you can notify the customers in real time, without the worry of your email being lost in junk or spam folders, or not being noticed in the bundle of emails in the inbox.
Parallax Scrolling
A trend which has been around some time, Parallax Scrolling is quite beneficial for those huge ecommerce stores that are going to expand their product inventory, which can impact the user scrolling functionality that needs to be impressive and fruitful even with the size. Parallax scrolling is a technique that displays website page background at a slower speed than the foreground creating a 3D effect as users scroll the website. With huge data to scroll on ecommerce stores, this magento trend will still be scrolling with the time.
Responsive Micro Interaction
As the physical interaction allows touch the audience feels more connected and this is well carried out with responsive micro interaction. It offers the first rate human experience to users. These micro interactions are specifically great, as they make it feel like interacting with humans, and increase customer engagement invariably growing the conversion rate. Magento takes care of this and with
Magento web design services,
more advanced and interactive estores come into existence. Thus, Responsive micro interaction adhere to the Magento Trends – 2020
Improved Organic Searches
The most crucial and clever searches like specified auto-complete tasks, smarter breadcrumbs and filter options, no doubt, are going to improve organic searches. All these smart searches embedding in online store helps to enhance customer experience as well as increase customer engagement, invariably leading in the increase of sales. Therefore, clever search is going to be in the hit list making improved organic searches to be in trend. If you want more information about Magento's latest trend to
contact us
.