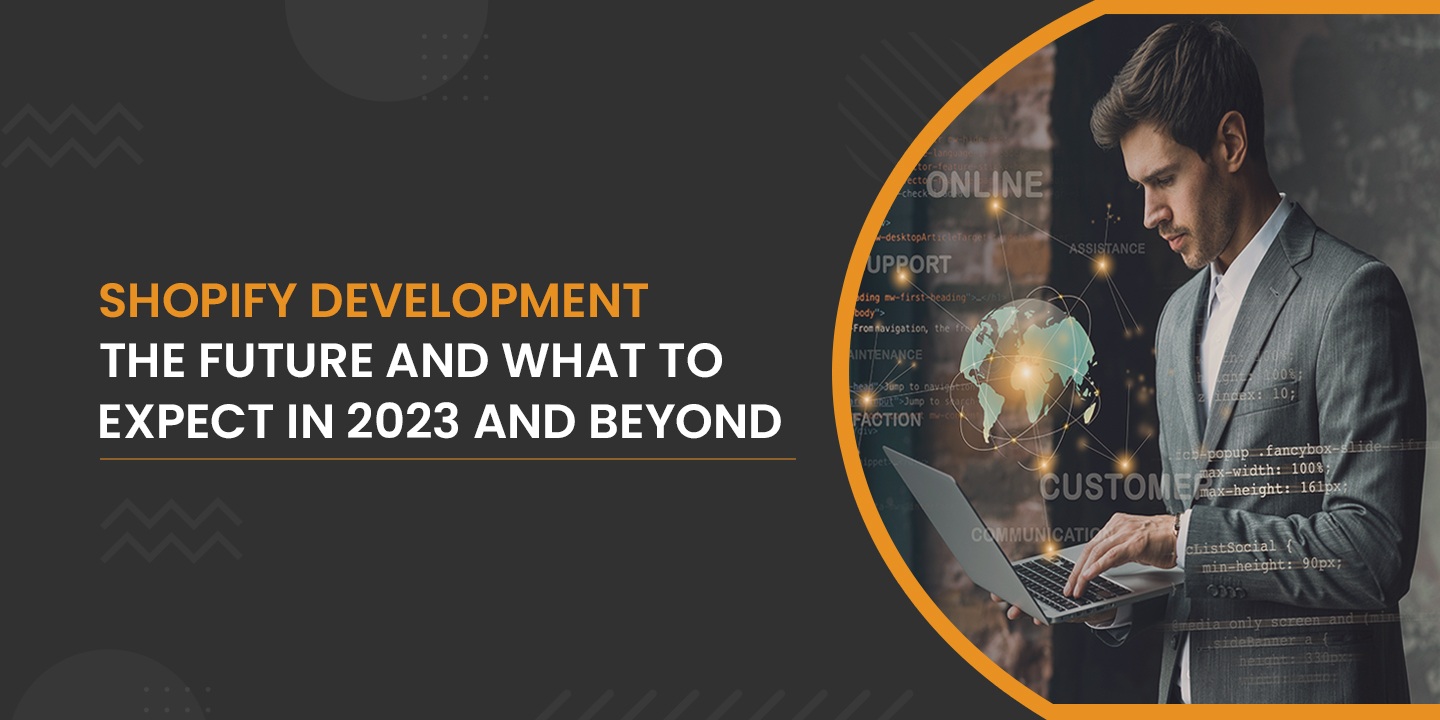 Shopify Development – The Future and What to Expect in 2023 and Beyond
eCommerce websites give you access to a large customer base for your business. They give users the option to transact online using portable devices easily. These web development tools provide a variety of features and capabilities. Its advantages are less time, development effort, physical server, and staff costs.
The majority of businesses consider Shopify to be the best e-commerce platform out of the many available ones.
Shopify is a very popular website builder in the market and it has monthly subscription plans so that it can fit in any budget any pocket. Here more, if you are completely new or a noob in coding and design, Shopify offers everything you required in your business without coding knowledge.
In this blog; we will go through everything about Shopify and its trends in 2023.
What is Shopify?
Shopify is a renowned eCommerce platform that offers everything you want or need for your online store in one place. This safe eCommerce software acts as a full-featured package for your eCommerce website.
It lets you quickly and easily design various pages using an online editor, sell goods locally by incorporating local language support, and personalize online stores. In 175 countries, our platform supports over 500,000 enterprises. It is a one-stop shop for eCommerce enterprise owners who want to make the most of their online store.
How Shopify Works
Because Shopify is a "hosted" solution, you don't need to buy any web hosting or install any software. It runs on its servers. You can run and operate Shopify business from anywhere if you can access the Internet as it is a cloud-based service.
The platform's main goal is to provide you with everything you need right out of the box, including templates, a payment processor, a content management system, a blog, hosting, etc., to create and promote an online store.
Although Shopify's built-in features are sufficient for most merchants' needs, you can still further personalize your store by adding apps (more on these in a moment) or writing custom code. These features make Shopify a preferred choice for businesses and thus the demand for
Shopify Development Agency
and experts is on the rise.
And last, Shopify is a service you pay a monthly fee to utilize rather than own.
German-born businessman Tobias Lütke launched Shopify in Canada in 2006 after discovering that an e-commerce system he had developed to sell snowboards could be used by — and sold to — other businesses.
Today, the platform is used by millions of merchants in 175 countries and has produced over $700 billion in sales. According to Internet statistics company Builtwith.com, Shopify currently powers about 4.3 million online stores. The corporation today employs around 11,600 people.
These
figures
are significant because you trust the provider when selecting a hosted solution for your online business.
Due to Shopify's substantial user base and market dominance, this scenario will continue to grow and show a rise in demand for
Shopify design experts
.
Top Shopify Development Trends in 2023
Mobile-First Development
Businesses must ensure their online stores are optimized for various platforms since the number of consumers is predicted to increase dramatically. This means
Shopify developers India
must use a mobile-responsive strategy when developing their Shopify e-commerce solutions. This entails developing responsive designs that function flawlessly across all platforms and enhancing mobile user experience.
Headless Commerce
Although it is still a relatively new trend in e-commerce, it is swiftly catching the industry's attention. Integrating the front and back ends of the online store is a component of headless commerce. This enables customization and flexibility, speeds up page load times, and improves overall performance.
Artificial Intelligent Personalization
Artificial intelligence is already applied in e-commerce to offer visitors
Shopify custom design
services and experiences. On their Shopify stores, more companies are likely to use AI-powered customization. This technology employs cutting-edge technologies to evaluate client data, recommend products, customize content, and carry out focused marketing efforts.
Voice Commerce
It is anticipated that e-commerce companies will benefit more from this expanding trend. Using voice assistants like Siri, Amazon Alexa, and Google Assistant more frequently. The integration of voice commerce into online storefronts is something that businesses are striving to do.
Voice-activated technologies can be used by
Shopify development services
to give clients a seamless purchasing experience. If you want to include voice-activated shopping capabilities on your website, Hire a
Shopify development company.
Use of social media
You'll see that most folks are very engaged on various social media platforms. Because of this, e-commerce businesses need to stand out through their profiles. It is simple for them to utilize it to compile reviews, manage loyalty programs, and offer customer service.
Using several tools, you can customize the social media channels and highlight your customers' values. 
Online Payments
Making the customer journey from start to end as simple as possible is crucial while working with Shopify Development Trends. The payment process in an online store should be quick, simple, and secure. In the industry, there are numerous payment gateways. To execute transactions, you must incorporate the appropriate, trustworthy ones. 
Video Content
Sharing your material creatively is crucial once you have a presence online. This can be done with photos, gifs, videos, and more. Video content's popularity is increasing and keeping customers in stores for longer. Shopify's distinctive features and functionalities make this simpler for store owners. 
User Generated Content
This enables gathering data from prospective clients and optimizes the store. Use innovative forms, surveys, or poll formats to collect pertinent data. Showcase this information on your platforms to improve social proof and your audience's confidence in your company. 
Chatbots
We frequently fail to communicate with our consumers and provide them with prompt answers to their questions. You can implement chatbot help that is constantly available to handle the clients and deliver robust support thanks to the industry's changing technologies and trends. 
There are several different chatbot platforms available now. Since everyone wants quicker responses as businesses grow, it is critical to offer immediate solutions. For this reason, companies use third-party tools to outsource customer service.
Reason to Choose Shopify Over Any Other Platform
Hosted solution
Web hosting can be extremely difficult when starting a new internet business. Startups are especially limited in spare time, and hosting a shopping cart requires some technical support. On the other hand, Shopify is a hosted cloud-based solution, so you don't need to bother about servers or databases.
Without any setup(hosting and servers), you can access your store from anywhere utilizing your admin credentials & an internet connection. The most crucial aspect is that it assists you in managing the payment gateway, which makes your work simple.
Built-in Marketing Resources/Tools
Shopify comes with a lot of integrated marketing tools that cut startup expenses. These tools let you create page titles, Meta descriptions, as well as unique URLs. It also allows you to customize the store to suit your tastes.
Additionally, it integrates with the most well-known social media sites, including Facebook, Twitter, and Pinterest, opening up new opportunities for promoting goods.
Excellent Technical Support
Running a web-based shop with an eCommerce shopping cart will require technological help. Shopify offers round-the-clock technical help, so you may contact customer service whenever a problem arises. They will answer the phone or guide you through live chats.
Rapidity & Security
Speed is key to an eCommerce site's success since it encourages sales. The greater the user retention on your website, the quicker your web pages load. In terms of security & payment provider integration, Shopify provides the best service. Thanks to an internal speed tester, it allows consumers to finish payments within the allotted loading time.
Reduces Errors & Data Duplicity Issues
Manual data entry concerns the risk of mistakes as well as duplications when entering information into several fields and forms. Additionally, problems arise if the faults are not properly tracked. Shopify offers automated solutions to make data entry easier and eliminate duplicate data.
Free 14-Day Trial
You can utilize Shopify's free trial bundle to explore its features. All you have to do is register for an account by giving your contact information and responding to a few inquiries regarding your project. You will receive a 14-day free trial of Shopify after creating your account, during which you may try out all of its features.
You can alter the dashboard settings, language support, product filter, store setup, storefront design and add the product. You can also create product variations and collections and link them. Only posting your domain live is prohibited during the Free Trial, but Shopify offers its default principal domain as "examplestore.myshopify.com".
Conclusion
Making an online store effective involves the developer's ongoing maintenance to make it more user-friendly and competitively superior day after day. This is in addition to the business's extreme appearance and ease of browsing.
It is advisable to
hire Shopify developers
if you need help setting up an online business. Because more business owners are hiring
Shopify developer India
to create Shopify stores, they are now outpacing web developers. Shopify is an all-encompassing cloud-based eCommerce platform in general. It is inexpensive and helps you save money, resources, and time.