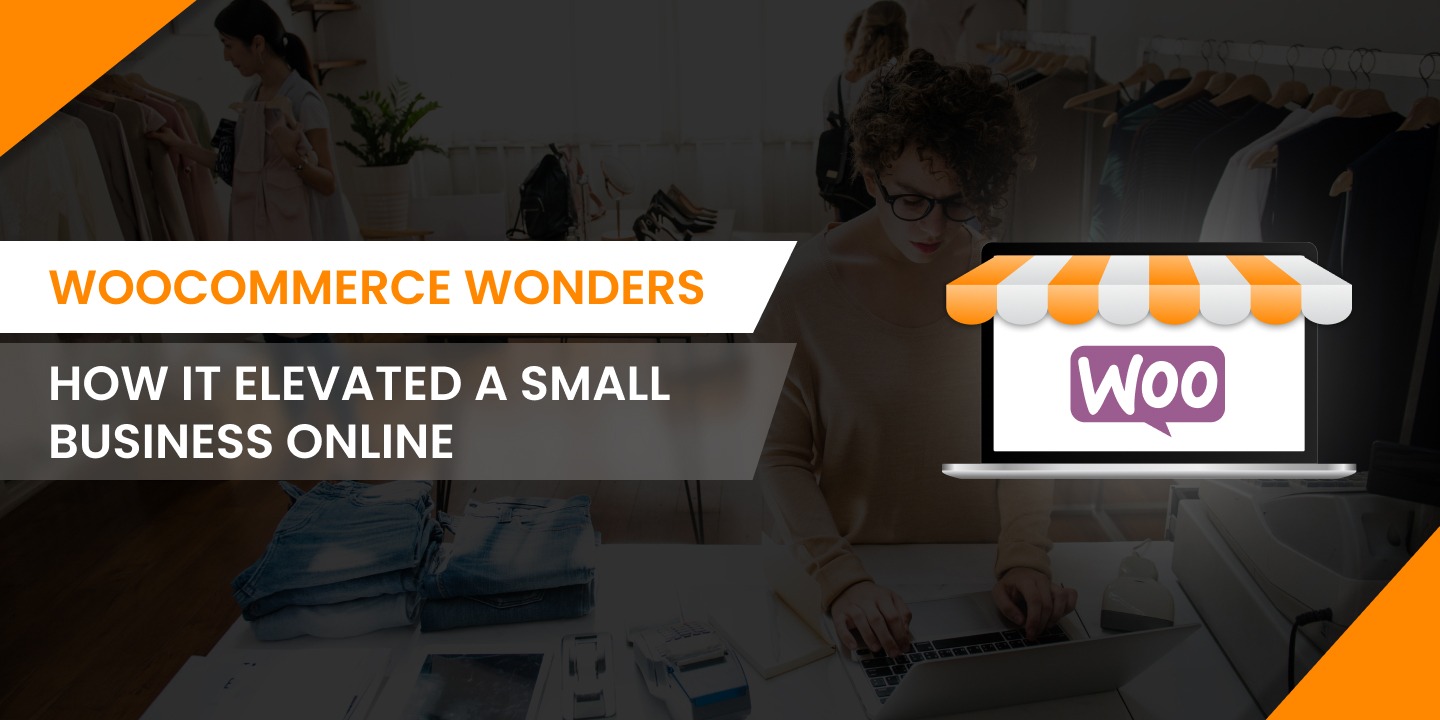 WooCommerce Wonders: How It Elevates a Small Business Online
The most crucial choice when selling via eCommerce is the appropriate platform. Given the variety of options, making the ideal pick for your company's needs might take time. 
One of the most well-known eCommerce platforms, according to a study, WooCommerce controls more than 26% of all online retailers. WooCommerce is used by up to 4.4 million websites worldwide to establish an online presence. 
Over 123 million copies of the WooCommerce plugins have been downloaded. Additionally, the Flatsome theme for WooCommerce has generated 150,852 sales to date. With this in mind,
WooCommerce development services
can be a fantastic option for starting a small business.
Compared to other eCommerce platforms, WooCommerce powers over 25% of the top 1 M websites worldwide. Believing how adaptable as well as user-friendly it is, these numbers keep rising.
In this article, learn about WooCommerce's features, benefits for small businesses, and effectiveness.
What is WooCommerce?
The WooCommerce plugin for WordPress makes setting up a web store easy. With a few tweaks, it is a WordPress plugin that may turn your site into a fully-fledged online store.
Setting up wooCommerce on your website is very easy, but it takes work to make a website. You will need help creating an ecommerce website; you can
hire Woocommerce development company
to make it easy.
WooCommerce simplifies and reduces the cost of setting up an online store. You may use it to sell everything from digital to real goods, process payments safely, keep track of stock, and file taxes without lifting a finger.
Since Automattic, the creators of WordPress, also own WooCommerce, the two platforms work together without any hitches.
Let's trace WooCommerce back to its humble beginnings.
How WooCommerce Works?
WooCommerce is a WordPress (WP) plugin that facilitates the creation of an e-commerce website. One of the most widely used e-commerce platforms online, with over 5 million active installations.
WooCommerce streamlines the process of opening a shop on the web. This is due in no small part to the fact that WordPress facilitates the utilization of pre-made themes.

There are a lot of possibilities for online stores, and other themes are more suited to creative uses like blogs and portfolios.
In addition,
Woocommerce website development services
provide a variety of tools that may be used to manage your web store. Examples are:
Label printing

Tax computation

Online payment processing.



In addition, you'll have several useful extensions designed to increase your sales—tools like these range from simple email marketing platforms like MailChimp to complex analytics suites like Google Analytics.
WooCommerce is another excellent choice for larger web shops. For best productivity, it supports mass product uploads.
WooCommerce for Small Businesses
1. It's free for beginners
A million dollars is usually not the starting capital for a business. You are, in fact, working within a very limited financial framework. You should also use extreme caution with your financial resources.
Because of this, small businesses appreciate WooCommerce because it doesn't cost them anything to use. Start your own online store and take use of free tools with WooCommerce and a WooCommerce website building firm. In addition, it offers a plethora of paid, deluxe variants. 
WooCommerce is a more economical and user-friendly alternative to other shopping cart software. This facilitates early-stage risk-taking by startups.
Most new businesses have extremely limited resources in their infancy. Therefore, the free WooCommerce plugins can be an excellent tool for novices.
Since WooCommerce is freely available, there is a lot of room for personalization. A WooCommerce development company, such as DIT India, can assist you in making a flawless online store. 
2. It is a leading ecommerce platform.
If you're curious about the prevalence of WooCommerce in 2023, let's delve into some statistics. According to BuiltWith, there are currently 5,106,506 live sites utilizing WooCommerce. Among the top one million sites, 58,946, or 5.89%, have opted for WooCommerce—a substantial figure. Now, let's narrow down and focus on how many online stores have chosen to entrust their operations to WooCommerce.
The data reveals that WooCommerce empowers over a quarter (25%) of all online stores, leaving its competitors far behind in the digital landscape.
For those wondering about the influx of new WooCommerce installations, a current statistic can be found on the WooCommerce page within the WordPress plugin section. Astonishingly, there have been 161,972,783 downloads, with over 322,000 occurring in the past week.
Given the widespread use of WooCommerce, it's worth considering why you wouldn't choose it, too.
3. Performance
In this day and age; website loading speed is of the essence. When using eCommerce sites for their buying needs, customers are frequently impatient. Cart abandonment is likely if your website lags and the buyer leaves before completing the purchase. 
Thus, speed constraints are removed when WooCommerce is combined with a reliable hosting company. For small business owners, this is crucial information because even the slightest performance latency can have a significant negative impact. 
4. High level of flexibility
If you enjoy flexibility, WooCommerce will appeal to you as well. Owing to its unique architecture and wide range of compatible plugins, WooCommerce lets its retailers sell anything, anywhere, and however they want—without getting too complicated. 
You can sell digital and tangible goods, have a membership pass to your website, rent a room, conduct online auctions, and sell things from other companies as an affiliate with WooCommerce. One of the simplest ways to earn a lot of money is to accept commissions from other retailers that sell in your business. 
Furthermore, you won't have to choose between hosting your website, blog, and online store on your domain because WooCommerce is WordPress-based. It's always good news that WooCommerce allows you to manage all three facets of your web presence through a single interface.
You need to
hire WooCommerce development company
who will develop your woocommerce website. Then you are ready to earn money with your WooCommerce website.
5. It will make you a master of marketing.
Even if a quality service is its advertisement, you'll need to practice a few marketing strategies if you want your company to expand. Thankfully, WooCommerce offers a wide range of possibilities, and it's possible to accomplish it on a small budget.
Hundreds of WooCommerce plugins and extensions are available; only about 150 are available on the official site. Some of them are free, but others need payment. WooCommerce's connection with Google Analytics, Facebook, Snapchat Pixel, HubSpot, Trustpilot Reviews, MailPoet, and many other apps is free.
6. WooCommerce is continuously improving.
Being an open-source project done well, WooCommerce is shaped by thousands of users worldwide, many of whom are determined to see it through to perfection, in addition to its creator's traditional blood, sweat, and tears. This vibrant developer community adds new features, develops extensions, creates unique themes, and updates the code. 
The platform and your online business can develop in tandem with the WooCommerce community, which shows no indications of slowing down anytime soon. 
But with time, you also need to update your website, and
hiring woocommerce agency
makes it easy. They will take care of your website and maintain it occasionally while you pay attention to your other tasks.
Conclusion
Whether you are concerned about the quality of your website or want to
hire WooCommerce development company
to grow your business, grasp the opportunity to expand the presence of your brand while simultaneously lowering the amount of work you have to do via the use of finely-tuned e-commerce content.