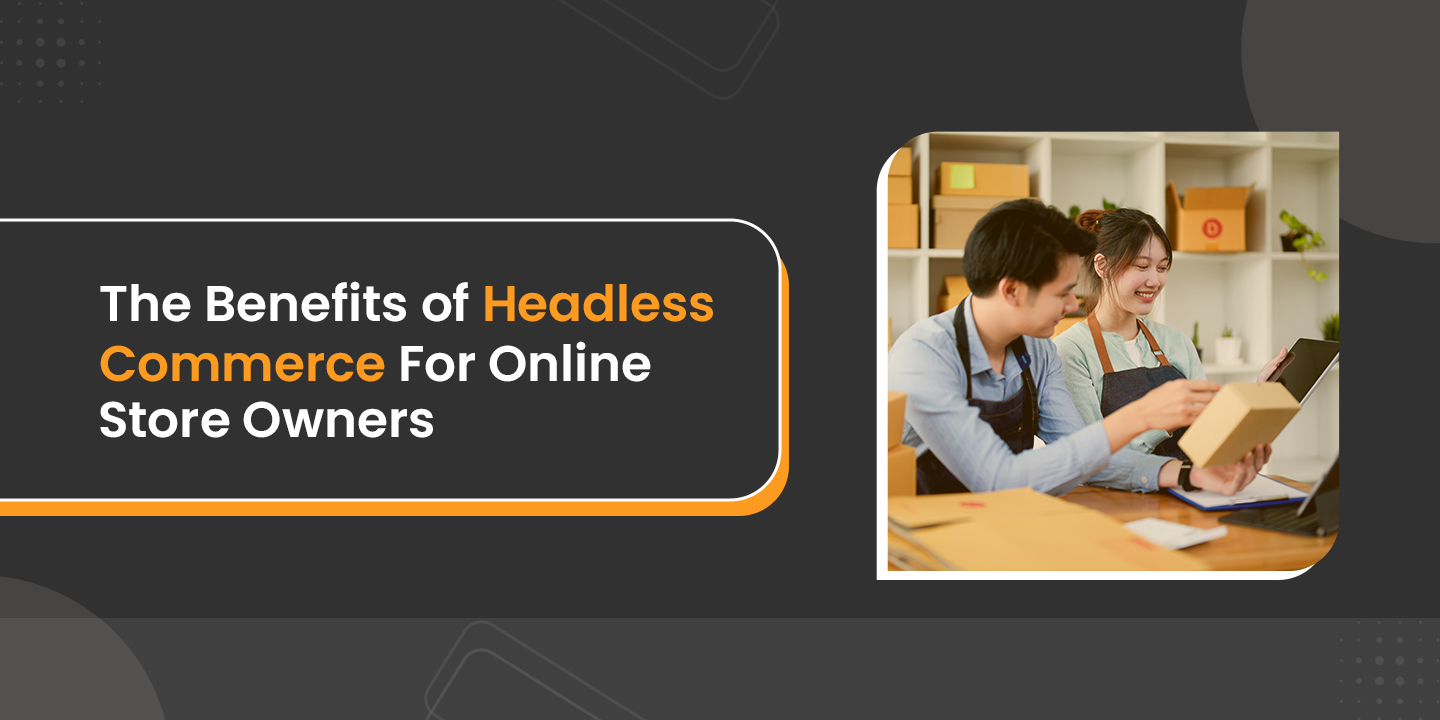 The Benefits Of Headless Commerce For Online Store Owners
In a world where changes and advancements are a basic need, businesses must find ways to deliver distinctive and seamless experiences across multiple channels to keep customer expectations and market demands within their reach. 
They must work on being "customer-centric" to fulfill customers' wants and satisfy the existing customers. According to Zendesk,
61% of customers will switch to one of your competitors after a single unfavorable experience
. Thus the need for personalization, easy navigation, and advanced technological elements came into force, giving rise to the need for headless commerce.
Headless commerce presents an alluring solution for companies looking to expand their brand presence and reach customers through various touchpoints. Businesses can easily experiment with and change the customer-facing elements of their online store by decoupling the frontend and backend experiences.
But what is headless commerce exactly, how is it different from traditional ecommerce platforms, and most importantly, what benefits does it offer?
This blog will detail the above questions so businesses can choose an ecommerce platform wisely. So, let's dive into the details:
Understanding Headless Commerce
Headless commerce is a new way of setting up online stores. In traditional ecommerce, how a store looks, and functions is closely tied to how the backend, like the database, is set up. But with headless commerce, these two things are separate. 
It separates the front and backends of an ecommerce application, allowing ecommerce owners the freedom to build their online stores exactly how they want. Gone are the days of being restricted by the limitations of the backend systems.
With headless commerce, the presentation layer of the store is completely detached from critical processes like inventory management, transactions, and shipping. This means that store owners can now focus solely on customizing their store's design and optimizing the customer experience without fear of disrupting these critical operations.
Furthermore, decoupling the front and back ends allows for rapid customization. Store owners can quickly make changes to the presentation layer without the need for extensive changes to the backend systems. This ensures a seamless and efficient process for store owners and customers.
Difference Between the Traditional Commerce & Headless Commerce 
Headless eCommerce and traditional eCommerce exhibit significant differences in their approach and capabilities. Let's see the major differences:
Flexibility on the Front End
In traditional eCommerce, frontend developers are limited to using the pre-designed templates and procedures provided by the platform and can make personalizations and modifications an issue. The code and the front end are required for modifying the database to make even minor changes, which presents substantial risks to the business. 
In contrast, headless eCommerce liberates frontend developers by enabling them to craft a fully customized and one-of-a-kind user experience that precisely aligns with the requirements of the business. This is accomplished without the frontend developers having to interfere with the functionality of the backend.
Unlimited Scope for Personalization
Headless eCommerce allows companies to define the experiences they want to provide to their end users as well as their administrative staff. 
On traditional platforms, the experience is frequently pre-defined, and there needs to be more room for adaptability to personalize it in response to unique demands.
Accelerated Time to Value
In traditional eCommerce solutions, the majority of the time spent on the process of developing software is dedicated to the creation of backend business logic and functionality. 
Starting from a point that is already finished enables a sharper focus on improving the customer experience, ultimately leading to a final solution delivered at a significantly reduced cost, time, and effort level. This is made viable by headless commerce.
In short, headless eCommerce offers a whole different level of frontend freedom in terms of personalization and a quicker time-to-value, making it an appealing option for companies that want to provide customers with a cutting-edge and individualized online shopping experience.
6 Benefits of Headless Commerce for Online Store Owners
Here are the key benefits that headless commerce can bring to your organization:
Personalized Customer Experience
Headless commerce gives businesses the tools to provide their valuable customers with the best buying experience possible. Furthermore, you will be able to provide a consistent experience to your customers across all of your channels.
You will have all of the advanced tools you need to customize frequently and easily without affecting your store's performance. 
Customers are the lifeblood of any business; the greater the number of happy and satisfied customers, the greater the number of sales. So, by providing the best customer experience, headless commerce ensures that your customers are satisfied and remain loyal to your business.
Agility & Flexibility
Headless commerce platforms support emerging technologies, enabling marketing teams to quickly launch multiple sites across various brands and divisions. The agility provided by headless solutions allows brands to respond promptly to shifting customer preferences and market demands. Whether experimenting with shopping experiences or exceeding customer expectations, headless platforms facilitate innovation without compromising backend functions.
Omnichannel Experience
Customers expect consistent shopping experiences across digital mediums, whether on laptops, mobiles, or chatbots. Monolithic solutions often need to deliver true omnichannel capabilities. In contrast, headless solutions empower companies to create frontends for new digital sales channels whenever needed. 
Centralized customer information and a comprehensive API layer enable unified experiences across all touchpoints, even with emerging commerce-centric IoT technologies like smart kiosks and digital signage.
Enhanced Security
Customer data, payment details, and order history are stored separately in the backend to reduce data breaches. Businesses can choose the best security measures for each component to keep their online store secure and industry-compliant. Headless commerce safeguards customer data and business reputation.
Faster Page Loading
Headless commerce can speed up page loading, improving the user experience and SEO. It speeds page loading by separating frontend and backend components. Businesses may additionally optimize code for performance to boost website speed.
Ease of Integration
Headless solutions facilitate seamless integrations with various tools through APIs. This adaptability expands data usage possibilities, promoting efficient communication and data transfer between platforms. Integrating new functionalities becomes hassle-free with the user experience detached from the backend.
In conclusion,
headless commerce development service
empower businesses to unleash their eCommerce potential by offering limitless customization, seamless integrations, omnichannel excellence, rapid experimentation, and unparalleled agility. Embrace headless commerce to stay ahead of the competition and deliver exceptional customer experiences in an ever-evolving digital landscape.
The Best Headless Ecommerce Platforms 
Shopify Plus
Shopify Plus is a new headless ecommerce platform from a trusted company. This tool turns computers, phones, kiosks, and apps into sales channels. The Shopify API lets non-developers launch a storefront almost anywhere. Shopify Plus includes prebuilt
solutions
and CMS, ERP, and CRM integrations to get you online quickly. 
BigCommerce 
BigCommerce supports B2C and B2B ecommerce sites. This tool is best for enterprises with many storefronts. However, the user interface is clean and clear, making it suitable for smaller shops with fewer open sites. It integrates with Amazon, eBay, and Google. Connect WordPress with the API. This vendor may suit you if you want to use many plugins to deliver functionality.
Adobe Commerce
Adobe Commerce (formerly Magento Commerce) offers all-in-one ecommerce website customization. Scale your business by offering multiple customer touchpoints. It works well with Analytics, Experience Manager, and Creative Cloud. Additionally, its inventory management is well-known. 
Salesforce CommerceCloud
Salesforce helps salespeople build customer relationships. A powerful tool from the same company can increase conversion rates and sales channel value. It enables API-first ecommerce. Utilize real-time data to customize and personalize the customer experience. 
Commercetools
Commercetools is an API-first, Microsoft-based digital commerce company. Use this tool to sell across smartphones, websites, and voice assistants. Its inventory management interface lets you always know what to sell and when. It integrates with payment, content management, and frontend development ecommerce solutions. 
With so many options, how can someone with less experience in ecommerce development choose? Many options will help you make the perfect choice among these ecommerce platforms. 
You can either study all the platforms individually, which may consume a lot of time and effort, or
hire a headless commerce development company
to
help you understand your business needs and choose among these options. 
The Bottom Line 
The demand for headless ecommerce is rising because of its huge offerings like personalization, high speed, huge tools availability, and many more. Businesses must transform traditional operations into advanced solutions like headless commerce to stand out in this competitive world.
If you are looking to transform your traditional commerce system into headless commerce or want to start a new commerce life, we at DIT are waiting for you to reach us. Our developers have years of experience and knowledge to put together to offer you the best
headless commerce solutions
for your online store. 
Our professionalism has allowed us to create the path of success for businesses like yours. We want to allow SMEs like yours to grow and make good revenue in this world of opportunities. 
Reach us to know our abilities!